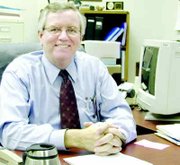 GRANDVIEW - As of June 25, 2004, Grandview School District Superintendent John Mathis will be retiring permanently.
Mathis will be leaving the post he has held for seven years at the highlight of his career.
"This is the best job I've ever had," said the 34-year educational veteran. "The district is large enough where you have resources, but it's small enough that one person can make a difference."
He changed, with permission of the Grandview School Board, the form of administration in Grandview. The district went from a top-down form to one that's more participatory, involving teachers in the decisions for their schools. Since Mathis has been superintendent each building has developed a site-council, which helps make the decisions for the schools. A district-wide curriculum council has been developed and teachers are taking a more active role in selecting the materials taught by teachers.
"The teachers are very supportive," said Mathis.
Teachers were even involved in the design process of the buildings in the district, most of which underwent heavy remodeling or were replaced while Mathis has been superintendent.
Mathis made official his resignation to the Grandview School Board at the Jan. 12, 2004 meeting. He retired two years ago and has been on the retire-rehire program, which allows teachers and administrators to contract with school districts for services after retirement.
But Mathis will no longer be contracted with to provide services. The Grandview School Board has already begun the search process to find his successor. The school board has hired a consulting firm to look for candidates for his replacement. The firm has talked to the administration, teachers and community to learn what kind of superintendent they would like see take over Mathis' role.
He said the decision to retire is driven by the desire to be closer to his children and grandchildren.
"I want to be more active in their lives," said the former high school English teacher. "When it comes to grandchildren, it's a real motivating factor."
Mathis started teaching in 1969 in Toppenish.
After earning his high school administration credentials, he worked for the school as a half-time English teacher and half-time assistant principal. It was in Arlington that he had his first full-time assistant principal position. He then served as high school principal in the community for about 10 more years. Mathis made the decision to go back to school again and earn his superintendent credentials.
He was hired as a superintendent in Kettle Falls, Idaho before moving to Grandview.
Mathis said that if he were looking for his replacement he would look for an instructional leader, a person who really knows teaching and instruction. He said being well schooled in student assessments is as important as it is continuing with the really strong financial condition of the district.
"I hope they have a background in a participatory style of management," he added.
In his seven years, Mathis has overseen the building of two new schools and the total remodel of two more in the Grandview School District.
"We've either replaced or added on 275,000 square feet of instructional space," he said.
Education has also gotten better. The district has revised the K-sixth grade science program.
"We went to an inquiry based model with a hands-on approach to science," said Mathis.
Kindergartners are now attending full-day programs and pre-school has been added to the district.
A new K-10 math program and an elementary school reading program have been implemented all in his time in the district.
With all of the changes, Mathis said there haven't been many changes on the school board. One school board member has moved outside the city in his seven years with the school district.
"They allowed all of the changes," said Mathis. "Without them it wouldn't have been done."
. Melissa Browning can be contacted at (509) 837-4500, or e-mail mbrowning@eaglenewspapers.com