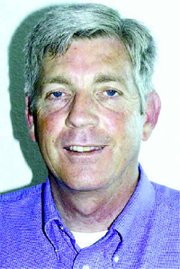 OLYMPIA - State Rep. Bruce Chandler (R-Granger) was presented the "2004 Legislator of the Year" award by the Washington Potato and Onion Association in Olympia this past Monday.
The award is presented annually to legislators who work to protect the interests and sustainability of agriculture, specifically the potato and onion growers of Washington state.
Chandler's work on water issues has been a great contribution to Washington growers, said Potato and Onion Association spokesman Charlie Brown.
"Bruce has been an absolute champion on water issues and his work has benefited all of agriculture in the state of Washington," said Brown. "Without water, agriculture can't survive, and without agriculture, rural Washington can't survive.
"His efforts on behalf of the industry are admired and appreciated," added Brown.
Chandler said it is an honor to be recognized.
"It's a good reminder that the work we do is important to people's lives, and our purpose here is meaningful," Chandler said. "I consider this job a privilege, but it comes with tremendous responsibility to the people we serve. It's something we, as lawmakers, must not take for granted."
Monday, when the award was presented to Chandler, was annual potato day in Olympia, when the Washington Potato and Onion Association treats legislators, staff members and visitors to the capital to an open potato bar.