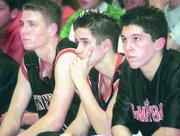 WEST RICHLAND - The Hanford Falcons took advantage of the raucous, playoff atmosphere in their home gym last night and sent the Sunnyside High School boys basketball team packing.
Hanford throttled the Grizzlies, 83-53, in the loser-out District tournament opener. It was the second largest margin of defeat for Sunnyside this season. The Falcons move on to play Selah this coming Friday night in one of two District tournament semi-final games. The West Valley Rams host Grandview, a 53-49 winner over Ellensburg in another loser-out game staged last night, in the other semi-final tilt Friday.
The Falcons' Nick Martin, Admir Beribak and Tyler Cathey exploded against Sunnyside Wednesday evening, combining for 57 points. Martin sank four shots from behind the 3-point arc enroute to popping in a game high 22 points. The 6'5" Beribak, Hanford's post, added three treys in his 18-point effort.
All told, Hanford made nine shots from 3-point land. Sunnyside connected on five treys, two off the fingertips of senior Jessie Ramirez, who finished his prep career with a 12-point performance.
Hanford got off to a 12-0 start against the Grizzlies and never looked back. With Beribak and Martin combining for 11 points in the opening period, the Falcons closed out the first quarter leading 23-6.
Sunnyside pieced together a short-lived 9-2 run early on in the third quarter, cutting the Falcons' lead to 12 points. But Hanford responded with a 15-2 run of its own to grab a 59-34 lead heading into the final period of play. Hanford's top three scorers in the game combined to pump in 20 of the 24 points the Falcons posted in the third quarter.
The Grizzlies' workhorse last night proved to be 6'3" junior Reid Schilperoort.
"Reid had a good game," said Steve Urrutia, Sunnyside's first year coach, on Schilperoort's team high 17-point performance. "He was aggressive inside the paint and was taking it to the hoop."
Little else went right for the Grizzlies, though. Sunnyside shot miserably all night long, from both the field and the free throw line. Sunnyside, too, gave up way too many rebounds, allowing the Falcons far too many putback opportunities.
"And we got beat back on the transition a lot," said Urrutia.
"Hanford got on a roll and just got better and better," he added.
Sunnyside finished its 2003-04 campaign with a 5-16 record. Hanford improved to 14-7 with last night's victory.
. Bob Story,can be contacted at
(509) 837-4500, or e-mail him
at bstory@eaglenewspapers.com
Sunnyside 6 13 15 19 -53
Hanford 23 12 24 24 -83
Sunnyside-Sanchez 0, Ramirez 12, Cantu 3, Simmons 0, Zamarron 2, Heckert 4, Van de Graaf 8, Schilperoort 17, Thomas 0, Marquez 2, Gilleland 5, Janjevic 0.
Hanford-Martin 22, Bailey 4, Cathey 17, Curry 2, Collins 3, Moore 0, Dabney 7, Beribak 18, Cantu 0, Hedgecock 6, Bird 4.