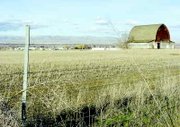 Tourists, business travelers or people who just want to get away from it all will have somewhere new to stay in Sunnyside by the end of this summer.
Tom Denlea purchased land owned by Gary Christensen, near the historic barn along Waneta Road overlooking Interstate 82. Denlea plans to build a new Best Western motel.
Denlea plans to build a 70,000 square foot, two-story Best Western motel near the Sunnyside landmark. Denlea said he will begin construction on the new motel as soon as possible, with expectations of having the latest in the popular chain of motels completed by the end of July.
Denlea will be a managing partner in the newest Sunnyside motel, as he is with the Prosser Best Western and the Best Western Ahtanum in Prosser.
Denlea has been eyeing the piece of property for about 10 years. Denlea made final the purchase of the property from Christensen at the beginning of the year.
"It is an outstanding freeway location," said Denlea. "It has outstanding visibility."
The actual motel will take up about 38,000 square feet, covering two stories. The rest of the area will go towards parking and landscaping. The motel will consist of 55 rooms, said Denlea. The motel will be built up on the hill area just to the west of the barn. The motel will be located between the historic barn and a group of vineyards.
Right now, Denlea is working with City of Sunnyside officials on tying up some loose ends with permits and addressing other construction related issues. Denlea said as soon as those official matters are addressed and permits are issued he will begin construction. The motel will be built by A&A Development and Construction of Spokane.
One of the reasons Denlea decided to build a new motel is that he sees potential for financial success in Sunnyside. He cited a number of reasons for the decision to move forward with the motel. Denlea said economic development is on the upswing in the Sunnyside area. He referred to the new Wal-Mart distribution center, but also added that he expects a lot more additional economic growth to take place in the Lower Valley in the form of restaurants and other businesses. Denlea also said the extensive tourism that hits the Lower Valley, especially during the wine touring season, was another factor in the decision to move forward with constructing the new motel.
"This area is growing," said Denlea. "There is a lot of potential here. There is quite a bit of upside for tourism in the area."
Denlea said he is looking forward to building a new motel in Sunnyside. He said the actual opening date for the business this year will depend on when he is able to break ground for the facility.
"It will be a nice facility," said Denlea. "I think it is a good project for Sunnyside."