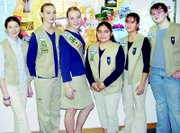 Sunnyside Girl Scouts Cadette Troop #391 is asking the public to participate in its "Cookies from Home, Notes from America," project.
The scouting organization is now taking donations which will be used to purchase Girl Scout cookies for delivery to military personnel now serving overseas and at stateside military bases, said Troop #391 Leader Carolyn Knee of Sunnyside.
The nine Sunnyside troop members will be taking orders through March 23, Knee said.
She said the girls are also taking orders for personal consumption as well. Cookies are being sold at the cost of $4 a box.
The "Cookies from Home" program is spearheaded by the Girl Scout Mid-Columbia Council, which has made arrangements with Fairchild Air Force Base personnel to ship the cookies to the service men and women.
In addition to boxes of the popular cookies, such as peanut butter sandwiches and shortbread cookies, the Girl Scouts are collecting "Notes from America," which will be taped to the cookie boxes, Knee said.
The public is encouraged to make donations and to write encouraging notes for the servicemen through their local Girl Scout troops.
To learn more about the project call Knee at 837-5339 or Our Saviour's Lutheran Church, 837-4550.
. Julia Hart can be contacted at
(509) 837-4500, or you can e-mail her at jhart@eaglenewspapers.com