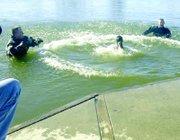 YAKIMA - Interested in taking the plunge for Special Olympics?
The Yakima County Sheriff's office is giving interested hearty types the opportunity to jump into a pond of freezing water Saturday, Feb. 21, at Sarg Hubbard Park in Yakima.
The third annual event is a kick-off fund-raiser for the YSO's 2004 Law Enforcement Torch Run, held in May as a benefit for Special Olympics.
The "Polar Plunge" begins at 9 a.m. with registration beginning at 8:30 a.m.
Those interested in helping to raise money for the event may call Stacee Brooks at (509) 574-2623 for more information.
Spectators are welcome to encourage the polar bear-types into the water.