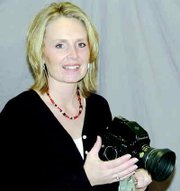 Wanting more than just ordinary snapshots recording the growth of her rowdy young sons, Amanda Roberts has taught her self how to capture their growth one frame at a time. As her children's photographic history has grown, so has her desire to expand her photographic horizons.
The Sunnyside woman, who started her career by taking photos of her two sons, has learned she enjoys the art and is good at it.
Today, Roberts operates her own photography business, "Snap Shots in Time," from her rural Sunnyside home. Her studio is a former vet clinic, which she has transformed into a series of rustic and formal backdrops for portraits of her clients.
A collection of pint-size denim overalls hanging in a small dressing room speak to her ongoing delight in capturing the innocent faces of small children at play.
It takes patience to work with children, she admits. "But I enjoy working with children," she said.
She also prefers to work outdoors, but likes the control a studio setting gives her as well.
"I use my own yard for some shots but will go to locations chosen by my clients," she said.
Roberts said she likes incorporating backgrounds which say something about her clients. "I like to include something personal in their photos," she said.
One of her favorite photos shows a family reclining on a small knoll, which could be seen from outside the client's kitchen window. "It was the perfect spot for their family portrait," Roberts said.
Roberts opened her studio in 1999 after studying with photography instructors Lena Davidson and Herb Blisard through Yakima Valley Community College in Yakima.
When not scheduling wedding, senior portrait or family photo sessions, the energetic woman works as a photo lab technician and courier for PhotoHaus. Roberts has a regular route in Sunnyside and Toppenish, picking up film, transporting it to Yakima, where she develops and processes the film before returning it to the Lower Valley stores for pick-up.
"I didn't know if I'd like that work, but it has been fun and I enjoy it," she said.
However, Roberts would be just as happy with her own dark room, something she hopes one day to have.
"Currently, I send out my own film to be developed and processed," she said.
"I'd also like to try my hand at hand tinted portraits, an art form which faded from popularity when color photography became widely available," she explained.
"There seems to be a swing back toward the hand color tinting," she said.
Like most photographers, Roberts is interested in all aspects of her craft.
"I love working in black and white and have found that more high school seniors are asking for the traditional senior photos, as well as photos with brown tones," she said.
Roberts hopes to one day have enough photographs in her portfolio to have her prints on display in the community.
"I'm building up my collection a little at a time," she said, noting it takes a while to be able to have photos just for exhibitions.
"I currently have one of my photos on display at the Sunnyside branch of US Bank," she said.
Roberts said she encourages families not to wait to have their group photos taken. "Photos of how you look now and how big or small your family is are irreplaceable," she said. "Each day there are changes in children and family circumstances, moments which can never be retrieved," she said.
"But you can preserve them on film," she said.
"Don't wait for the perfect time to have a photo taken. Have it taken now," she urged.
. Julia Hart can be contacted at
(509) 837-4500, or you can e-mail her at jhart@eaglenewspapers.com