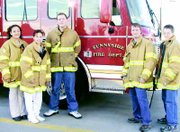 Five Sunnyside teens ages 16 and 17 have been selected to participate in the newly formed Sunnyside Fire Department Cadet program.
According to Josh Roe, the coordinator for the program, two of the students, Michele Gonzalez and Jason Aguirre, attend Sunnyside High School; two cadets, Justin Bos and Paul Groenewold, attend Sunnyside Christian High School; and Amelia Muñoz is a PRIDE High School student.
"They all had good interviewing skills," Roe said of the five students selected to participate in the program. "And when they were asked to show up they were all there, if not early."
Roe added that the students each have career aspirations that the cadet program can help enhance.
"They all expressed a strong desire to help the community," said Roe.
There is room for one additional cadet.
The students each completed the five components making up the physical ability test to make the cut.
They each had to carry a roll of hose, drag hose line 100-feet, lift rolls of hose, drag a dummy and complete a quarter mile jog, according to Roe.
He said the cadet physical agility test is based on the test potential firefighter reserves have to complete.
Gonzalez, 16, has an interest in becoming a nursing after high school. She is already preparing to get her certified nurses assistant license and looks forward to the opportunities the cadet program will open up.
"Being an EMT (emergency medical technician) is different than being a nurse," said Gonzalez. "They get to be there first and help at the emergency scene."
Besides learning more about the work of EMTs, Gonzalez said she wanted to be more active in the community.
"This will be a learning experience of how the fire department and EMT works," she added.
A high school sophomore, Aguirre, 16, is the third generation in his family that's been in the Sunnyside Fire Department.
His grandfather was a volunteer for about 25 years and his father volunteered with the department for 14 years.
"I figured this would be a good experience," said Aguirre.
During the application process, Aguirre said the hardest part was the interview portion with a panel of firefighters. Aguirre has aspirations of becoming a pharmacologist.
Bos, 17, a senior at Sunnyside Christian, plans to attend college in Moses Lake and study aviation next year.
He said he feels participating in the cadet program will gear him up and provide opportunities to volunteer with the Moses Lake Fire Department, which has a resident program. The resident program allows volunteers to live at the fire department.
Groenewold, 16, a sophomore in high school, has aspirations of either being an EMT or working in search and rescue for his career.
He hopes to be able to learn the basics of the fire department while participating in the cadet program, which will include responding to calls to assisting in a supporting role.
Muñoz, 17, would like to study medicine and possibly be a doctor safter she is finished with high school.
She is currently working on her senior project, which is on the fire department and cadet program.
The cadets will begin training tomorrow (Saturday), when they will learn CPR and first aid.
. Melissa Browning can be contacted at (509) 837-4500, or e-mail mbrowning@eaglenewspapers.com