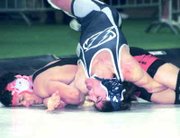 TACOMA - From the elation of Sunnyside's Ray Romero winning a State title to the agony of Gabe Lara losing one behind some less than spectacular officiating, this past weekend at the 3A State wrestling tournament was an emotion-filled ride for the Grizzlies.
Sunnyside proved it was the best team this side of the mountains, as the Grizzlies cracked the top five at State, placing fifth with 83 points. Sedro-Woolley, which brought 13 wrestlers to State, won the 3A team title with 160 points. Kelso was a distant second with 106. Ferndale claimed third place honors with 95 points and White River was fourth with 87. Clarkston, which was ranked at one point in the season as the No. 2 team in the State, was sixth with 59. The closest Mid-Valley League team to Sunnyside was West Valley-Yakima, which was 15th with 35.5 points. Mid-Valley League champion Ellensburg was 16th with 35 points.
"I thought we did good," said Sunnyside Coach George Paulus. "The kids were focused. They were ready to go."
After a spectacular first day at State with all six Grizzly wrestlers qualifying for Saturday's medal round, Sunnyside ended up being plagued by injuries on Saturday. Steven Sanchez had his quest for a 112-lb. State title ended when he injured his arm against eventual State champion Kelso junior Andy Austreng in a semi-final match. Another key injury occurred to Sunnyside freshman Ricardo Rivera, who injury defaulted his consolation championship match at 103 lbs. with a neck injury.
But Saturday wasn't all bad for Grizzly fans, as Ray Romero made the most of his coveted first trip to State, winning the 145-lb. title.
Romero turned in perhaps his most solid outing of the year at State this past weekend. Romero won a 4-2 decision in his opening round match against Lynnwood senior Tesir Alhussaini. The Grizzly senior then won another 4-2 decision over Mark Morris senior Jake Kazeck. In a thrilling semi-final match, Romero defeated Squalicum senior Mason Webb 3-2 to move into the finals against Fife senior Joe Vanaman, whom Romero had beat in overtime at the White River tournament. Romero won the match 5-2. Romero took a 3-1 lead into the third period before winning the championship with a convincing third round. Romero is the Grizzlies 26th State champion and the 11th for Paulus as a head coach. Paulus said Romero just wrestled well all weekend and didn't make any mistakes.
Romero said after his unexpected loss to Ellensburg's Kameron Beedle in the Regional finals last week he worked harder on his technique. Romero admitted he was surprised to be in the finals. He said his toughest match at State was his opening bout because it was the first time he was at State.
"This is a great feeling," said Romero of his title. "It feels great."
Lara dominated his first three opponents at 215 lbs. to reach the championship. Lara won his opening match against Blanchett senior Michael O'Kelley 13-5. Lara then reached the semifinals with a 3-1 victory over R.A. Long senior Jeremy McClure. Lara faced off with Bellingham senior Nick Vlahos in the championship, losing 10-5. Vlahos placed second at State last year. Lara scored the first takedown in the opening period before Vlahos scored an escape and was given a penalty point for Lara supposedly fleeing off the mat. With the score tied 2-2, Lara scored an escape and takedown for the 5-2 lead. Vlahos then scored an escape to make it 5-3. Lara was then dinged for two penalty points, including a stalling call, with mere seconds left. The last penalty point gave Vlahos a one-point lead. Lara then shot on the Bellingham wrestler, but fell off balance. Vlahos scored a takedown and a near fall in the final seconds for the 10-5 championship victory. Paulus said it was a shame that the match was decided by officiating. Paulus said Lara was the aggressor in the match and should have never been penalized. Despite the loss, Paulus said he was very pleased with Lara.
Joe Evans finished fourth for the Grizzlies, losing to Washougal senior Jamie Watts 11-4 in the consolation championship. Evans lost a 6-5 decision to North Mason senior Kyle Polhamus in the quarterfinals, when he was penalized a point in the last seconds for misconduct.
Rivera placed fourth at 103 lbs., injury defaulting to Sedro-Woolley freshman Derek Crouter in the consolation championship. Rivera had hurt his neck in a consolation match against Mark Morris freshman Jared Miller. Rivera's only loss was to eventual State champion Neal Ward of Kelso in the quarterfinals, losing by pin in 3:35.
"I think Ricardo far exceeded his expectations for going over there," said Paulus. "It is too bad he got injured. I think he could have taken third."
Sanchez was forced to settle for sixth place after injury defaulting at 112 lbs. The Sunnyside junior dislocated his left elbow in the first 40 seconds of his semi-final match against Kelso junior Andy Austreng. Paulus said there was no reason Sanchez couldn't have been contending for a State title. He said the injury was unexpected, but is looking forward to having Sanchez back next year.
Sunnyside heavyweight Pete Garza took the long road to an eighth place finish, losing to Kennedy senior Brian Clapp 12-3. Garza lost his opening match to eventual state champ Ferndale sophomore Derek Altona 8-0, but came back to win the next two matches to qualify for the medal round.
. Mike Kantman can be contacted at (509) 837-4500, or email him at mkantman@eaglenewspapers.com