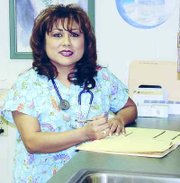 Earlier this month Wapato native Anita Vargas returned to doing one of the things she enjoys the most, working as an educator.
Vargas, a licensed practical nurse, joined the staff at Planned Parenthood of Central Washington Feb. 9. Vargas said since taking the position she has been learning the routines of the local office as she prepares for her role as a community service outreach nurse for Sunnyside.
Vargas said working as a community outreach nurse will mean spending her afternoons working out of her office at the Department of Social and Health Services building in Sunnyside, and spending her mornings conducting home visits and doing outreach work. She said she will be visiting people who for one reason or another are unable to go to Planned Parenthood for their services.
Vargas, who is currently working out of the Planned Parenthood office, said she is busy learning about the local organization and dealing with patients. She said one of the things she talks to patients about are different birth control methods.
For Vargas, the educational portion of the job is something she really enjoys. Before coming to Planned Parenthood of Central Washington, Vargas said she worked as the licensed practical nurse supervisor for Alterra, an assisted living facility in Yakima. Prior to that she worked for the Yakima Valley Farm Workers Clinic as an HIV/AIDS counselor.
Vargas said when she saw the listing for the Planned Parenthood job in the newspaper, returning to the educational aspect of the medical field was something that appealed to her.
"I decided it was what I wanted to do," Vargas said.
Working in the medical field is nothing new for Vargas, who began her career as a certified nursing assistant in 1989. Vargas, who graduated from Yakima Valley Community College as a licensed practical nurse in 2003, said although she graduated from YVCC she is hoping to continue her education after spending some time with Planned Parenthood. Vargas said she is currently two quarters away from becoming a registered nurse, and would one day like to be either a nurse practitioner or a physician's assistant.
Vargas said she enjoys working at Planned Parenthood and being able to interact with the patients, allowing them to trust her enough to talk to her about anything.
"That feels really good," Vargas said.