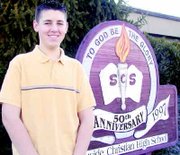 Sunnyside Christian High School student Adrian Van Oostrum will be making his first trip to Europe this summer as a People To People student ambassador.
Van Oostrum will be in Europe this summer from July 2 to July 26. He will be on the European Heritage tour, which will allow him to visit places such as London, Normandy, Paris, Bruges, Rotterdam, the Rhine Valley, The Black Forest and Zurich. His itinerary will be finalized in June, he said.
Van Oostrum was nominated to be a member of the team, but he's still not sure who nominated him.
While on his tour he is expected to meet a member of the British Parliament and visit some of the great historical sites.
"I hope to see the different cultures and how they live," said Van Oostrum. He added that he hopes to see places such as Normandy Beach.
Van Oostrum, the son of Henry and Marilyn Van Oostrum, is currently raising money for the trip, which will cost more than $4,000, which includes all of his costs while in Europe.
Van Oostrum will be traveling with nine other students from Ellensburg and the Lower Valley and his team will meet up with 10 students from the Tri-Cities area. The 20 Washington students will be joining 20 delegates from Chicago, said Van Oostrum.
His family is currently selling raffle tickets for a garden trellis made by the teen's father. Other gardened themed items will also be raffled off to help pay for the trip. He has already had cookie sales at the Sunnyside Christian basketball games and is working on other fund-raisers.
The raffle items will be displayed at Banner Bank and other Sunnyside locations through March and April. Tickets are available at Banner Bank or from the Van Oostrum family. There is also an account in Van Oostrum's name where donations can be deposited.
As a student ambassador, Van Oostrum will also be able to earn high school credits for his time in Europe.