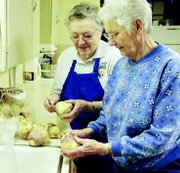 OUTLOOK - Originally, the Outlook Grange dinner menu consisted of chicken as part of its main course, but five years after the first dinner it was switched to roast beef and turkey.
One thing that has not changed is the rutabaga element of the meal. Rutabagas may be a vegetable more commonly associated with the fall and winter months, but if properly stored in a cool, dry place they will last until spring.
"Back then (in 1933) rutabagas were a primary food people ate a lot of," said Pat Barr, one of the organizers of the annual dinner.
She explained that originally farmers grew a lot of rutabagas in the Lower Valley as a secondary crop. Today, it is a little more difficult to find the slightly peppery vegetable, which is a cross between a sweet potato and a turnip. In the past farmers would donate rutabagas, but now the grange has to buy the vegetable from local farmers who still grow the root.
Barr said the rutabagas range in size from four to eight inches. She explained the grange members work together to prepare the vegetable for the dinner.
"Friday we go down to the grange and peel them," she said. "They have a heavy skin. Then we simmer them with chunks of bacon."
Grange members serve the soft rutabagas in chunks rather than mashing them, which is another way to serve it.
Not a common vegetable nowadays, Barr said the dinner will be a good time for younger people to try the vegetable.
Barr said with an interest in nutrition and eating healthier foods, people might be glad to know that rutabagas are high in Vitamin A and have cancer fighting agents in them.
A cup of cooked rutabagas has 64 calories and is low in protein with only 15 carbohydrates, said Barr. She added that they are a good source of calcium and beta carotene, which is good for the eyes.
This year the grange, which is located at 4400 Van Belle Road, is gearing up for another annual dinner, which will be held on Leap Day, Sunday, Feb. 29, from noon to 3 p.m. Last year 300 people attended the dinner, which is the major fund-raiser for the grange.
"It keeps us busy," she said.
The first Outlook Grange dinner was served in 1933 as a fund-raiser.
Rutabagas are not the only food on the menu for the annual dinner. Roast beef, turkey, mashed potatoes, green beans, apple salad, pie and a roll will also be served, according to Barr.
The cost of the dinner is $6 for adults and $3 for children.
. Melissa Browning can be contacted at (509) 837-4500, or e-mail mbrowning@eaglenewspapers.com