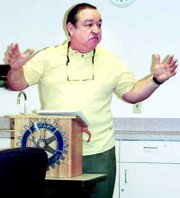 When the state offers funding for projects in various communities it does so with the intent of acting as a catalyst; to help spark activity in the community.
Robert F. Sandoval, project manager for project development services with the Washington State Community, Trade and Economic Development Department, talked to members of the Sunnyside Daybreak Rotary Club this morning (Wednesday) about the role the department plays in economic development projects throughout the state.
For example, Sandoval said when it came to the Wal-Mart distribution center project in Grandview the state provided approximately $1 million in financing. Financing that helped aid a more than $20 million private investment that will hopefully help to bring jobs to the Lower Valley, as well as help spark other businesses to move to the area.
Sandoval said another way the state helps get economic development projects started is by leveraging funding. He explained that often times the state can join a project and bring with it other funding sources.
Sandoval talked about different areas of the Community, Trade and Economic Development agency, including CERB funding and the Rural Opportunity Fund. He explained since most of the communities in this area are considered rural, the state offers some funding options for community development projects.
He said when it comes to the Rural Opportunity Fund most of the money provided for projects comes in the form of low interest loans. However, Sandoval said about one quarter of the funding is provided in the form of grants, which are usually provided for feasibility or informational studies.
He said one project that received funding through the Rural Opportunity Fund was a study on the creation of a downtown cityscape for Waitsburg. Sandoval said Waitsburg is now beginning to see some economic development as a result of the work that was done on its downtown area.
Sandoval told Rotarians that often times when people talk about economic development, thoughts automatically turn to jobs. He said the state has a slightly different outlook on that idea.
"We build wealth," Sandoval said. "If we don't build wealth in private sectors, forget about the jobs."
Sandoval explained that what the state is doing is helping the private sector help itself through the use of different mechanisms.