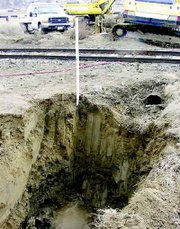 Even though the city of Sunnyside's existing sewer system was not adequate for the project at hand, the developer of Villa Real Estates located off West Edison Avenue, between Edison and Yakima Valley Highway, has worked out a way to push forward with building 51 houses.
For about a year Ernesto Villa, owner of First Choice Construction and the general contractor for the development, has been working with property owner John Nalewajek on the logistics of developing the 11-acre parcel.
To get sewer service to the property a pipe had to be run underneath the railroad tracks. Villa said a pipe will run from the lift station that is being built on the development, under the railroad tracks to the forced main in Outlook. He explained that there was no other way for the property to have sewer access.
It took four months to get the permits, licenses and insurance needed to bore a 10-inch hole under the railroad tracks. When completed, a 6-inch pipe will run under the train tracks. Water access to the 11 acres will also be through the hole under the tracks.
"The lift station we're putting in will be enough to develop the rest of the 400 acres to the west of the property," said Villa. The 400 acres is owned by a number of different people, he added.
"This will be good for the growth of Sunnyside," he said. "We put this in for the future of Sunnyside."
Now that the hole is bore under the railroad tracks, which was completed Tuesday, Villa hopes to begin building within the next 45 days.
The houses planned for the development can either be single or two-story structures, he said. Home buyers can either choose one of the plans available or have a home custom built with their own design.
Vehicle access will be off West Edison Avenue, but Villa said, the plan is to eventually tie into Yakima Valley Highway at the north side of the development.
As a part of the project an irrigation pipe that already goes under the railroad tracks will be maintained.