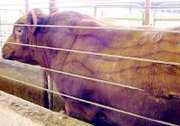 For nearly 70 years the Washington State Department of Agriculture (WSDA) has been recording brands and therefore recording ownership of livestock.
The WSDA Livestock Identification Program was taken over by the department in 1935, and just several weeks ago the program was taken over by a new program manager.
Feb. 2, Wendy Rude began serving as the manager of the state's livestock identification program. Rude holds a Bachelor's degree from Pacific Lutheran University and a Master's degree from Seattle University. Rude, who grew up on a family farm in Roy, has extensive agricultural experience, which includes working with livestock quarantines, transportation, branding and identification concerns.
Rude comes to the WSDA after spending 14 years as executive director of the Northwest Rehabilitation Riding Program in Eatonville.
Rude said the role of the program is to maintain official records on the approximately 7,000 livestock brands registered in Washington. She explained that once a brand is registered with the state, the livestock identification program maintains the records of the brand, including its history. Rude explained that although the state keeps records on the brands, the brands themselves are actually owned by the farmers and ranchers who register them.
"They have title to that brand," Rude said.
She said the livestock identification program also conducts inspections of cattle and horses at public markets, slaughterhouses, certified feedlots, before change of ownership and prior to movement out of the state. Rude said inspectors go in and inspect the animals hands-on for proof of ownership. There are livestock brand inspectors located throughout the state.
"Our staff is everywhere," Rude said, including the Toppenish Sales Yard. She said there are livestock brand inspectors located on-site in Toppenish, working to ensure proof of ownership for all of the animals bought and sold at auction.
Another role the livestock identification program fills is dealing with missing or stolen animals. Rude said whenever there is question of ownership, inspectors are called in to help take part in the investigative process.
For Rude, serving as the manager of the livestock identification program will mean providing leadership for the inspectors, as well as working hand-in-hand with both the director and assistant director of the Washington State Department of Agriculture. Rude said so far she has found herself stationed in Olympia, although once she gets settled into her new position she said she will be traveling throughout the state.
Rude will also be meeting with the Livestock Identification Advisory Board, which is made up of six members who represent different areas of the livestock industry, from beef producers to meat processors. She explained that the advisory board allows representatives from the livestock industry to come together with the Department of Agriculture to voice concerns they may have or issues they want to address.
Rude said two issues the advisory board is currently discussing are the Country of Origin Labeling law and animal identification.
. Elena Olmstead can be contacted at (509) 837-4500, or e-mail her at eolmstead@eaglenewspapers.com