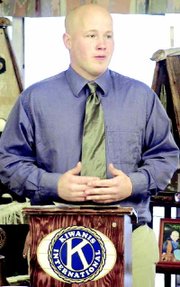 In January Lower Valley Young Life Director Tom Dekker had the opportunity to hear Joni Erickson Tada speak to 3,000 Young Life staff members and spouses. The woman, who has been a quadriplegic for 30 years due to a diving accident, attended Young Life activities as a high school student. She shared with the Young Life staff and spouses that it was Young Life kids and leaders that helped her get through more than a year in the hospital, Dekker told members of the Sunnyside Kiwanis Club Thursday morning.
The Thursday morning guest speaker spoke to the service club at a time when Young Life is growing in the Lower Valley.
"Young Life in the Lower Valley is at a point where the dam is about to burst," said Dekker.
The group is two months away from sponsoring its first Wyldlife Club, which is a group for middle school-aged youth. This will be the first time a Wyldlife Club will be available to middle schoolers in the Lower Valley.
He said the group already has five adult leaders and a student leader to start Wyldlife, who are beginning to meet middle school aged kids.
"We got permission to go into the middle school and meet kids," said Dekker.
He said there has also been interest in starting Young Life clubs in Prosser and Grandview, and he added, he hopes that clubs starting in Mabton, Bickleton, Zillah and Granger are just around the corner.
In looking ahead to the summer months, Dekker said that about 95 percent of Young Life's summer camp spots have already been spoken for.
"That's huge for us to have middle school and high school kids already thinking about this summer," said Dekker.
The Young Life annual fund-raising brunch is scheduled for Saturday, March 20, at Navarro's Community Center. A silent auction begins at 9:30 a.m. with the brunch beginning at 10 a.m. Youths who have benefited from Young Life will be speaking at the brunch.
Dekker said one of the ways to expand into other areas of the Lower Valley is to increase the donor base and to develop more volunteer leaders.
"We need 100 people willing to give $10 a month," said Dekker. "Giving up two Whoppers a month will help us. It's the committed monthly gifts that makes Young Life happen."
For more information about Young Life or to attend the Young Life brunch contact Dekker at 840-4448.