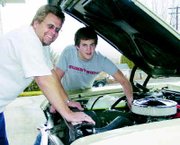 Sunday is a big day for Sunnyside's Kyle Tyler and Damian Solis. Both boys will be celebrating birthdays, events which for them only come around once every four years.
Tyler, a lanky sophomore at Sunnyside High School, is eagerly looking forward to getting his driver's license, even though according to the calendar, he is only 4-years-old.
Young Solis' mother is planning a huge first birthday party for the cartoon-loving pre-schooler.
That's right, both boys were born on Feb. 29, a day that shows up on the calendar only once every four years. The boys are among the fortunate few who will age very slowly, thanks to their unusual birth date.
In fact, in the United States Tyler and Solis are among only 200,000 people who celebrate Feb. 29 as their birthday, according to LEAPzine, an on-line website that collects a variety of interesting facts about "Leapers," those people born on Leap Year. For example, according to the website, the World has celebrated Leap Year since 45 BC, when Roman Emperor Julius Caesar attempted to straighten out the Roman calendar.
The chances of Tyler and Solis being born on Feb. 29 is about 1 in 1,461, and while Tyler's friends may kid him about only being 4, he just grins.
"I think it is kinda' funny," he said, saying he normally marks Feb. 28 as his birthday.
The calendar may say young Tyler is only four, but he shows every sign of being a typical 16-year-old boy, anxious to get that all important driver's license and the keys to his first car.
For the past several months, Tyler has spent the past year working on a mint-condition 1972 Chevy Nova, along side of his dad, Burt Tyler.
The car is a sign of Tyler's rite of passage into manhood, just as little Damian's first real birthday celebration is a rite of passage for his parents.
"Our little boy is finally a year old," joked his mother, Laura Solis of Sunnyside.
Solis, who is happy playing with his giant Tonka earth mover and watching "Hulk" and "Spiderman" cartoons on television, could care less about which birthday he is celebrating on Sunday.
"However, I'm sure he will like all the extra attention, the cake and all of his new toys and presents," said his dad, Ruben Solis.
The Tylers also plan a huge celebration for their birthday boy, but he is much more concerned about passing his driving test.
"I plan to take the test on Monday, March 1," he said, adding that he took traffic safety classes at Sunnyside High School last summer. "I'm ready to drive," he grinned.
The young man, who is a fan of muscle cars, is excited about finally getting his car on the road, said his dad.
"We been restoring this old Nova, making it road worthy for months," he said, noting that the duo have worked together learning how to care for the once very popular sports car.
"It's been a "learn as we go" process," the older Tyler said.
The Tyler men had some help from Kyle's grandpa, Ray Benson, as well as Sunnyside automotive experts Dan Johnson and Tim Lyczewski. "They helped rebuild the engine, so it would be ready for Kyle's birthday," said the elder Tyler.
"Kyle's going to be the only 4- year-old on the road driving a sharp-looking Nova," grinned his dad.
Meanwhile, the Solis family, who normally observe their son's birthday on March 1, are planning a party for the youngster at his pre-school.
Even though Tyler and Solis celebrate their birthday every year, this year's birthday parties are significant for both families.
"Can you imagine how old Kyle will be when he finally celebrates his 21 birthday," asked his mom. "84."
"Man, that's a long time away," he grinned.