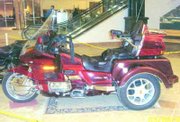 The Yakima Valley Wings, a chapter of the Washington Gold Wing Touring Association, will host a spring bike show at the Mid Valley Mall in Sunnyside Saturday and Sunday, March 6 and 7.
Gold Wing owners are eager to get their "bikes" back on the road, but want to give the public an opportunity to learn more about the motorcycles and the people who ride them, explained Gordie Jakobe of the local chapter.
"We want the public to see us and the bikes in a non-moving setting, so they will see us when we're out on the road," she explained.
Chapter representatives will man informational booths at the mall, with details about the bikes and chapter functions, including tours and social activities and upcoming rallies.
"You'll never see more beautiful bikes in one setting," said Jakobe who along with her husband, Jerry, own a 1994 red Honda Gold Wing trike.
Jakobe said there will be people's choice awards for the prettiest, cleanest and most admired bikes on display at the show. The winners will receive trophies, she said.
"We will also have tickets for sale for a national drawing," Jakobe said. Prizes include a 2004 Gold Wing, or $10,000 cash or a same value travel voucher, a 32-inch television and a digital camera.
Jakobe said the drawing will be held at the National Gold Wing rally in Wisconsin in July.