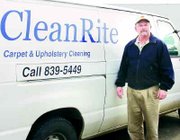 Ten years ago Sunnyside resident Jack Syverson decided it was time to close the door on one career path and open the door to another. A career path that would allow him more flexibility when it came to spending time with his family.
Syverson, owner of CleanRite Carpet and Upholstery Cleaning, worked in agriculture management for years, but over time the hours became more and more demanding.
"We had very young kids who were active in school," Syverson said of himself and wife, Terri.
Syverson one day found himself talking to his wife about the possibility of leaving the profession he had worked so long in, and changing directions. He wanted to own his own business. Syverson said it was soon after making this decision that he came across the carpet cleaning business he would ultimately end up purchasing.
Syverson said becoming his own boss meant he instantly had more freedom to attend his children's sporting events and see them taking part in different school functions.
For Syverson, a typical day begins at 8 a.m. and ends when the last room has been cleaned. Syverson said he no longer works as many night hours as he did when he first got into the business.
CleanRite is a one-man business, with Syverson serving as the owner/operator. Syverson said there's a reason he does the work himself.
"That way I get the blame for everything," he said.
Syverson said cleaning carpets and upholstery is a physical job, one that requires the same effort as using a shovel or a hoe all day.
"There's a lot of physical activity," Syverson said.
For Syverson, the best part of the job is getting to meet different people every day. He said over the course of a year he will come in contact with 600 to 700 people, from Prosser to Toppenish.
Syverson said he has found that a referral system works well for his business because carpet and upholstery cleaning is typically something that takes place in someone's home. He explained that people tend to feel more comfortable inviting him into their home, if they know a friend trusted him with their carpets.
According to Syverson, people should try to have their carpets cleaned annually. Although he noted he has clients who get their carpets cleaned every six months.
When it comes to carpets, Syverson said there are a few things he wished more people knew. He said many people think having their carpets professionally cleaned will remove the protective layer many carpets have built in.
"It won't remove the protector," Syverson said.
He said over the years one of the biggest problems he has run into is the use of over-the-counter spot removers. Syverson said many homeowners go out, purchase a spot remover and then proceed to make things worse. He explained that homeowners can affect the carpet dye with the use of some spot cleaners.
Syverson said he specializes in carpet and upholstery cleaning, as well as area rugs.
"I kind of like doing it," he said, noting that specializing in a few areas has allowed him to become good at those things.
Overall, Syverson said he has come to enjoy the freedom that comes with being a business owner.
"I was just after the freedom of time," Syverson said.
. Elena Olmstead can be contacted at (509) 837-4500, or e-mail her at eolmstead@eaglenewspapers.com
Elena Olmstead/Daily Sun News
Jack Syverson, owner of CleanRite Carpet and Upholstery Cleaning, has been in the cleaning business for 10 years. He said he first got into the business as a way to spend more time with his family.