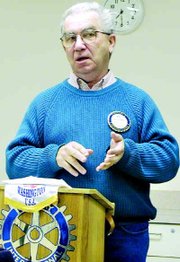 Taking an active role in the community of Sunnyside is an important part of "continuing to keep the ball rolling," said Sunnyside Daybreak Rotarian Bill Flower.
Flower served as the club's speaker Wednesday morning, talking about the responsibility Rotary members and other people in the Sunnyside community have in coming together and moving forward.
"We're 30 strong, we can do a lot. But we've got to do it," Flower told Rotarians. "All of us here are responsible for the future of Sunnyside."
Flower said the community is surrounded by gems, like the local museum, as well as its many parks and the community center. He said it's things like these that can help attract people to the community, both as residents and business owners.
He explained that coming into a community that takes pride in what it has to offer can play a part in making people think they might want to become part of the community.
Flower also told fellow Rotarians that he feels the community of Sunnyside is in the middle of an economic development opportunity that it needs to take advantage of - the growth of the local wine industry.
"It's happening all around us," Flower said, noting the tourist industry could be a boost to Sunnyside.
He said the community has to start working to attract people, not only to visit Sunnyside, but to stay.
Flower noted that one of the best gifts given to the community in recent years was the gift of the George property by Don and Karen Vlieger. The downtown property is now home to Centennial Square.
Don Vlieger and Mike Farmer were present at the Wednesday meeting, as was City Manager Dave Fonfara, who leaves for Chelan soon to take on a new job there.
"We're all wishing you the best in Chelan," Flower told Fonfara, before turning his attention back to the group of Rotarians.
He told those in attendance that with Fonfara soon leaving for Chelan, it is important that people in the community talk to members of the city council about the importance of keeping the momentum going started by Fonfara.
"We need to get a city manager who understands we need to keep going," Flower said.
Ultimately, Flower said he feels that good things are happening throughout the area and that good things can happen in Sunnyside, as well.
"I think there's a great hope for Sunnyside," Flower said.
. Elena Olmstead can be contacted at (509) 837-4500, or e-mail her at eolmstead@eaglenewspapers.com