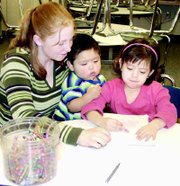 When Sunnyside High School teacher Suzanne Walker asked if anyone would be interested in a job that paid $10 an hour, many students' ears perked up. However, it was 14-year-old freshman Jolene Merry who was chosen to fill the position.
For the past three months, Merry has been spending her Tuesday, Thursday and Friday evenings, as well as her Saturday mornings, caring for the children of para-professionals who are taking classes through Yakima Valley Community College at Harrison Middle School.
According to the Sunnyside School District, the classes are being offered through the college in an effort to help para-professionals prepare for the new state assessment test. District officials said by the year 2006 all para-professionals throughout the state will either have to have passed the test or have an Associate of Arts degree.
Merry said she took the after school job because she enjoys working with children. So far, Merry said she typically watches three or four children during each of her shifts. She said caring for children ages infant to nine years old can be a challenge, although she finds that the older children can be easier to watch.
During the week Merry watches the children for approximately two hours a night, spending three hours with them on Saturdays. Merry said during that time she plays games with the children, allows them to watch movies and every now and then they even head down to the gymnasium to play a little basketball.
Merry said although she has enjoyed the job over the course of the last several months, she will have to reapply for it next semester. In the meantime, Merry said she is also interested in taking care of other children when she is not working at the school. She can reached at 837-5121.
. Elena Olmstead can be contacted at (509) 837-4500, or e-mail her at eolmstead@eaglenewspapers.com
Elena Olmstead/Daily Sun News
Jolene Merry has been spending many of her weeknights and Saturdays caring for children at Harrison Middle School, ensuring they are entertained while their parents take classes being offered through Yakima Valley Community College. Here Merry watches over 3-year-old Irene C. Rangel and her brother Enrique, 1, both of whom are the children of Lucie Rangel, a para-professional.