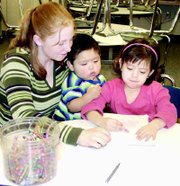 With nightly temperatures dipping well below zero, to a new record low on Jan. 4 of -9 degrees, Lower Valley residents are preparing for cold days and icy roads.
This morning as the Sunnyside School District bus drivers arrived to work they found that half of the buses wouldn't start.
"The cold weather wreaks havoc on the buses," said school district spokesperson Julie Kaplicky.
Some of the schools in the district have only 50 percent of the students in the classrooms, she said.
She added that parents can expect delays when their children are being dropped off this afternoon. School is planned for Tuesday, but depending on the bus situation, that could change, said Kaplicky. She said the final determination will be made by 5 a.m. tomorrow.
After the New Year's Day snow storm, snow shovels, sleds and ice-melt disappeared from the shelves of Ace Hardware in Sunnyside. Now, heaters, both electric and kerosene, have been selling like hot cakes, as well as torch kits, heat bulbs and gloves, according to store manager Ed Dean.
"They're buying anything that will look like it will thaw a pipe," said Dean.
With a variety of heat tapes and small heaters used to thaw pipes available, Dean said those who've had pipes freeze over the past few days have been looking at different ways to get water flowing again at their homes.
"They started coming in on New Year's Eve a little bit," said Dean.
As the temperatures dropped, more came to the store looking for additional heat sources.
"It's just plain cold," he said.
In fact it's so cold that the company is having a hard time getting the supply trucks from Yakima started.
"We're sending a truck up just for kerosene and electric heaters," said Dean.
With expected additional snowfall Tuesday night, Dean said Ace employees want to be prepared for the next wave of expected bad weather.
"We're bringing in more snow shovels and more ice-melt," he said.
Mark Cook, who records Sunnyside's temperatures for the National Weather Service, said Sunday's temperature of -9 degrees shatters the record for Jan. 4 of -2 degrees set in 1924.
Sunnyside Public Works Superintendent Ken Ott has not had any calls on city pipes freezing.
"I'm not too worried about it right now," he said, adding that the city's pipes are buried deep and have a layer of insulation and the weather is supposed to warm up.
"If it breaks and it's our pipe, we're going to take care of it," he said. Everything up to and including the water meter is the city's responsibility.
Sunnyside Fire Department Battalion Chief Aaron Markham said that those who bring heaters into their homes for extra warmth need to remember a few simple steps to ensure safety during the cold.
"Most importantly, if you use a heater you need to make sure you keep them a good distance from everything," he said.
This weekend the Sunnyside Fire Department was called to a mattress fire, he said. The fire was out on arrival, but it was determined that the mattress was too close to an electric heater and caught fire.
"Not all heating devices are appropriate for indoor use," said Markham. Some are for outdoor use only because they put off toxic fumes and burn oxygen. Markham said people can die from carbon monoxide poisoning.
Markham said it's also a good idea to change your furnace filter when it's cold.
"Changing the filter helps them run more efficiently," he said.
For those with freezing pipes, Markham said, "Getting under your house with a torch is probably not the best idea. Pipes conduct heat and if hot enough can go into walls and catch them on fire."
With snow and ice still on many of the roads, Markham encourages caution when driving, but, he said, the majority of the accidents the Sunnyside Fire Department has responded to have been on the freeways.
"Those accidents have slowed down because the freeways have cleaned up," Markham added.
Although today (Monday) continues to be cold, according to a spokesperson at the National Weather Service, the temperatures should be rising over the next few days.
After midnight tonight there is a 30 percent chance of snow. It is expected that 2 to 4 inches will accumulate. Temperatures should increase to the 20s, he added.
Tuesday night there is a 70 percent chance of more snow, according to the National Weather Service.
Wednesday along with snow, the Lower Valley should expect light freezing rain, rain and snow.
. Melissa Browning can be contacted at (509) 837-4500, or e-mail mbrowning@eaglenewspapers.com