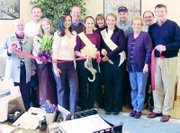 GRANDVIEW - A construction company with building sites all over the state has officially been welcomed to the Grandview Port District.
Columbia River Steel owners John Flodin and Rex Dilbeck of Grandview have located their base of operation for their regional construction company on Wallace Way, with the encouragement of the Port commissioners.
"We're happy to be locating in our hometown and we appreciate the support the Port and city of Grandview have shown us," said Flodin during a ceremonial ribbon cutting held Monday afternoon at the new company offices.
Columbia River Steel, which has worked on a number of large projects in the Lower Valley, as well as in Alaska and Oregon, relocated in the Grandview Port District a year ago, said Dilbeck.
Dilbeck and Flodin formed the company in 1999 to build commercial, agricultural and industrial buildings. He said among their larger local projects is the recent expansion at CanAm Steel plant in Sunnyside, a number of large dairy barns in the area, as well as a veterinary clinic on Edison Avenue in Sunnyside.
Flodin, who serves as the company engineer and designer, and Dilbeck, who labels himself as the builder, employ 20 people in the building trade.
Officially welcoming the commercial engineering and construction firm were Grandview Mayor Mike Bren, and Port Commissioners Jim White, Dr. Ron Grow and Colleen Byam, Grandview Chamber of Commerce President Derek Wood and the Grandview Junior Miss Court.
. Julia Hart can be contacted at
(509) 837-4500, or you can e-mail her at jhart@eaglenewspapers.com