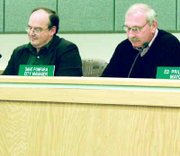 While he still has a couple of days left of work, the Sunnyside City Council Monday night formally accepted the resignation of City Manager Dave Fonfara.
Fonfara's last day of work as city manager will be Thursday, Jan. 8. Fonfara will be leaving Sunnyside to become chief administrator for the city of Chelan, population of roughly 3,500 residents.
"He has done an incredible job," said Councilwoman Bengie Aguilar of Fonfara. "He has been wonderful."
"This city is a far better place because you have been here," added Councilman Don Vlieger. "You are going to be missed."
Following an executive session Monday night, the Sunnyside City Council formally approved the appointment of Assistant City Manager/City Attorney Mark Kunkler as the interim city manager. Council also approved a 5 percent pay increase for Kunkler as interim city manager. Without the 5 percent pay increase, Kunkler's current salary as assistant city manager/city attorney is $6,388 per month. This is the third time Kunkler has been appointed as the interim city manager. Kunkler filled in at the position following the resignations of former city managers Leo Fancey and Don Hahnfeldt. Fancey was forced out of his job in 1999 after nearly 18 years. Hahnfeldt was hired to replace Fancey and resigned six months after being hired.
Fonfara was hired by the City of Chelan Thursday, Dec. 18. He will begin his position in Chelan on Jan. 12.
Fonfara heads to Chelan after 23 years of service to the City of Sunnyside. Fonfara was the city's first parks and recreation director, taking the position in 1980. After six years as parks director, Fonfara took the position as the director for the economic development agency, Sunnyside Inc., which he held for 12 years. Fonfara was hired as the Sunnyside city manager in 2000.
Council held discussion on the process for hiring a new city manager following Monday night's executive session. Before Council could dive into the discussion, Sunnyside resident Ivan White stepped forward. White thanked Fonfara for his 23 years of service to Sunnyside residents.
"He will be missed tremendously," said White. "There is some benefit. I might have a chance of winning fantasy football now."
The Council initially set the salary range for the new city manager between $80,489 and $84,276 per year, as it currently stands in the 2004 budget.
Vlieger suggested the Council change the posting to read the salary range read between $80-90,000 per year, depending on qualifications.
White disagreed with the direction Council wants to take with the salary for the new city manager.
"I think you are under paying this position," said White.
White said he has always felt the Council hasn't paid the city manager enough. White said he felt the city manager should be paid in comparison with what Sunnyside School District Superintendent Dr. Rick Cole is making, which is $113,000.
"We need somebody to come into this community and do what Dave did," said White. "(Paying) $80-90,000 is not going to get that done. You aren't going to attract somebody at that salary level to do this job."
Vlieger said he didn't disagree with what White was saying, but said it boiled down to financial resources. Vlieger said the Council needs to stay in line with what is budgeted for 2004.
White countered by saying the significantly smaller community of Chelan managed to nearly match Fonfara's current salary in Sunnyside. As city manager, Fonfara was making $7,023 per month.
"If you get the right person in here, he will make it back for you 10 times," said White.
Sunnyside Fireman Bob Johnson cautioned the Council at dishing out any significant amounts of money for a new city manager. Johnson said the Council could be hearing back from the different bargaining units about what their respective department employees are being paid.
Vlieger answered Johnson's concerns by saying that it is relatively easy to find firefighters, saying the city has applicants lining up "around the block" for the position. Vlieger said the city has a hard time finding a city manager or police officers and he wasn't sure why.
Mayor Ed Prilucik said he and Mayor Pro-tem Mike Farmer were going to take an active lead developing the posting for the city manager position.
"We are going to get rolling on this and get that posting out," said Prilucik.
Prilucik also wished Fonfara good-bye at the Council meeting.
"It has been good Dave," said Prilucik. "I wish you well."
. Mike Kantman can be contacted at (509) 837-4500, or email him at mkantman@eaglenewspapers.com