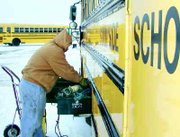 With Sunnyside schools missing as many as 50 percent of their students the first day back after the winter break, the second day back was a bit smoother.
"Several of the elementary schools each had 200 or 250 students absent (Monday)," said Julie Kaplicky, community relations coordinator for the school district.
About half of the school district buses wouldn't start the first day back to school, but according to Kaplicky, this morning only six of the school district's 24 buses wouldn't start.
"Things went better this morning (Tuesday)," said Kaplicky.
Sunnyside School District Transportation Director David Taylor said his department is working on getting the rest of the buses started.
The buses were unable to start because of the dipping cold temperatures that fell below zero Sunday night and Monday morning.
"Our diesel fuel was gelling up on us and then the batteries didn't want to work," said Taylor. "When diesel get so cold it gels. The buses will sit there and idle, but they won't move."
Currently, transportation employees are putting antigel agent in the fuel and are replacing batteries.
What helped the school district stay on schedule this morning was having bus inside overnight.
"We don't have enough room to house all of the buses inside," said Kaplicky.
So, the school district contacted C. Speck Motors, which offered to house six of the diesel machines in their shop, according to Taylor.
"We had several offers in the community to house other buses," said Kaplicky.
The school district was unable to take up other business on their offer because they couldn't get the last six buses started, but now that additional buses are running, Taylor said they may be calling businesses this afternoon.
To help with the bus shortage Tuesday morning, the school district combined two routes and borrowed two buses from other school districts.
"We borrowed a bus from the Grandview School District and we borrowed a bus from the Zillah School District," said Kaplicky.
ESD 105 helped us find the Zillah bus, she added.
Now that the buses are running, Taylor's main concern, as the snow continues to fall, is slick roads.
"We're concerned about how much snow we're getting," said Taylor.
As snow falls in the Lower Valley, there is still another day of inclement weather expected before a break in the cycle the end of this week. Rain, freezing rain and snow is called for on Wednesday.
By Thursday, the weather is expected to warm to a high of 40 degrees with a low at 34 degrees. Warmer weather is also expected for Friday and Saturday.
To help remove snow around the county the Washington Department of Transportation is ready to first focus on the main thoroughfares and then on some of the less traveled roads, according to WSDOT spokesperson Ann Briggs.
Highway maintenance crews in six WSDOT regions, including Yakima County, are on winter schedules providing around-the-clock coverage when poor driving conditions are forecasted. According to Briggs, crews will first focus on the interstate freeways and other highways with the highest traffic volumes.
Anti-ice, de-icer and sand will be applied to bridges, hills and curves where snow and ice can cause hazardous driving conditions.
. Melissa Browning can be contacted at (509) 837-4500, or e-mail mbrowning@eaglenewspapers.com