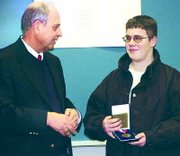 When most people think of the Congressional Medal they think of the award given to soldiers in service to their country.
17-year-old Danny Mendoza of Sunnyside isn't old enough to serve in the military, nevertheless the Sunnyside High School junior is a Congressional Medal winner. However, Mendoza's medal was earned on the basis of his service to his community and achievement of a number of personal goals.
Fourth District Congressman Doc Hastings was in Sunnyside Monday afternoon to present the teen with a Congressional Bronze Medal in recognition of his initiative and determination.
"Daniel's commitment to achieving his personal goals has earned him this award," said Hastings, who presented the medal to Mendoza during his advanced placement English class at Sunnyside High School.
Mendoza is an activist for the establishment of a youth skate board park in SunnyView Park, on Yakima Valley Highway. His work on the park, as well as ongoing efforts to improve his public speaking skills, build on international travel experiences along with the organization and participation in a Boy Scouts overnight winter camp, are among the activities which helped Mendoza to earn the Bronze Medal, Hastings explained.
The Congressional award was established in 1979 to recognize the achievement, service and initiative of young Americans, Hastings said. Any young person may apply to earn the distinct honor through the program's web site on the Internet, he added.
The non-partisan, voluntary program is open to youths ages 14 to 23, who earn the award by achieving personal goals in the areas of volunteer service, personal development, physical fitness and explorations.
To earn the U.S. Congress's Congressional Bronze Medal participants must spend more than 200 hours working toward their personal goals, working with a mentor.
Mendoza chose as his mentor Sunnyside Police Chief Ed Radder, who was on hand Monday for the presentation.
His mother, Debbie Mendoza, said her son now hopes to go on to earn the Silver and Gold Congressional Medals, which are the top honors in the unique program designed to recognize and honor young people's efforts.
. Julia Hart can be contacted at
(509) 837-4500, or you can e-mail her at jhart@eaglenewspapers.com