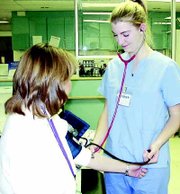 Unlike most young people her age, Lindsey Schlotfeldt didn't spend her New Year's Eve holiday skiing or doing other winter time activities. The serious-minded, Everson woman was found shadowing Sunnyside Community Hospital emergency room nurses during the days leading up to 2004.
Last Tuesday and Wednesday nights, the first year nursing student tagged along with Sunnyside ER nurses Kristi Cramblit-Powers and Janice Schell, in order to get a first-hand feel for working the emergency room. She also had the opportunity to visit the medical floor during her two-day job shadow experience.
Schlotfeldt was in Sunnyside over the holidays visiting her uncle, Sunnyside Police Chief Ed Radder, who had put her in contact with Sunnyside Community Hospital.
Schlotfeldt's mother, Helen Schlotfeldt, worked at Sunnyside Community Hospital nearly 13 years ago at the ER desk, so young Schlotfeldt was familiar with the community.
"I just wanted to see where she had worked," said the 18-year-old Seattle Pacific University student.
"Uncle Ed helped me make arrangements to spend time in the hospital emergency room over New Year's Eve," Schlotfeldt added. She said she has always wanted to be a nurse. Even though working as an emergency room nurse may not be her future nursing career choice.
"I do hope one day to work in the area of pediatric nursing," she explained.
Schlotfeldt said she appreciated the opportunity for the first-hand experience. "Janice and Kristi, who is one of my mom's friends, were very nice and helpful," she added.
"We were happy to have Lindsey join us," said Schell. "We hope she had a good experience," she added.
Schlotfeldt's request to shadow professional nurses is welcomed by the hospital administration.
"We try to work with individuals who are interested in seeing first-hand the world of nursing," said Tom Lathen, the hospital's director of community relations and physician recruitment.
He said job shadows and on-site tours are one way for the hospital to encourage young people to look up-close at careers in the medical field.
"We have scholarships and other incentives available for health careers students and we want to make them available to those interested," he said.
Persons interested in nursing careers or lab technician careers are encouraged to contact Linda Garner, SCH's director of nursing, or Lisa Gray in human resources for more information.
. Julia Hart can be contacted at
(509) 837-4500, or you can e-mail her at jhart@eaglenewspapers.com