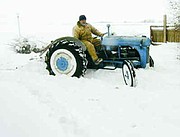 When Hanford worker Tony Santoy of Sunnyside found himself among the many Lower Valley residents sent home from work Wednesday due to severe winter storm conditions, he couldn't just sit around his warm house.
So rather than sitting around the fire, Santoy, who lives on Alexander Road south of Sunnyside, got out his small utility tractor mounted with a snowblade and cleared his driveway.
When that job was done, he proceeded to clear the snow from the driveways of several of his nearby neighbors. It was an act of kindness that prompted one of his neighbors to praise the man known for many volunteer activities in his neighborhood and in the community at-large.
"He just came over and plowed us out. What a great gesture," said his grateful neighbor Ruth Cole.
"He needs a pat on the back because I know we were not the only neighbors he helped," Cole said.
Cole said she knew he also cleared Dean Bridger's driveway who also lives in the area.
Santoy, who has been rewarded many times for his services as a school volunteer, was recently appointed to the Sunnyside Community Center board of directors.
"I told him I was going to send his picture in to the newspaper,...he just laughed and said OK," said Cole.
"I just thought his kindness should be recognized," she said.
In a separate, but similar incident, a resident on Sunnyside Avenue, who asked to remain nameless, said she commends recent high school graduate Eric Pacheco for removing the snow from her walkway and driveway.
"After he was done I asked him how much I owed him," she said. "He wouldn't take any money. Eric just told me he wanted to help."
. Julia Hart can be contacted at
(509) 837-4500, or you can e-mail her at jhart@eaglenewspapers.com