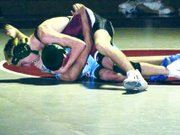 GRANDVIEW - The Grandview High School wrestling team put up a valiant effort, but West Valley proved to be too much last night. The Rams powered by Grandview, winning last night's match 51-23. West Valley remains undefeated in Mid-Valley League action at 3-0. The loss dropped the Greyhounds to 0-3 on the season.
"I thought we wrestled pretty hard last night," said Grandview Coach Jeff Sevigny. "I hate losing, but I was real happy with the way we wrestled last night."
Sevigny said his team is young and still making some mistakes, but felt the Greyhounds competed hard last night against a tough West Valley squad.
The night started off at 189 lbs. West Valley's Alex Segaline pinned Grandview's Heleodoro Lopez in 1:49.
Grandview's Junior Pina dropped his 215 lb. match by fall in 2:17 to Tim Speer.
Heavyweight Andrew Morales came up with a big win for the Greyhounds, defeating West Valley's Josh Campbell 7-5 in overtime.
Grandview gave up a forfeit loss at 103 lbs.
Nestor Soriano continues his strong showing in recent weeks for Grandview at 112 lbs. Soriano defeated Drew Falon in 45 seconds.
At 119 lbs., Grandview's Kaelan Nelson won a major decision over West Valley's Chris Garza, 15-5.
Brandon Stelter won his 125 lb. encounter with Grandview's Max Saldana by technical fall, 17-1.
Mathew Saldana lost a major decision at 130 lbs. to West Valley's Tyler Munson.
Brian Naylor won a 16-8 major decision at 135 lbs. for the Greyhounds, defeating Eric Abhold.
The Greyhounds gave up forfeits at 140 and 145 lbs.
At 152 lbs., Grandview freshman Jacob Robillard lost to Brandon Evans by fall in 1:58.
Andrew Benavidez won his match at 160 lbs. for Grandview, defeating Michael Gleason by fall in 1:57.
The night ended with the 171 lb. match. West Valley's Pat Barrick pinned Grandview's Rigo Rodriguez in 1:43.
Sevigny said he is still planning to hold the Grandview Invitational tomorrow, but is still making phone calls to all of the schools involved.