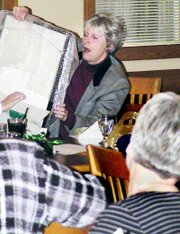 There are three keys to having a relaxing Sunday afternoon for the women of Sunnyside Presbyterian Church. Sit back with a hot cup of coffee or tea, pull up a slice of yummy dessert and leave the boys at home.
As a celebration of a year-long secret sister program, which had women of the church writing notes of encouragement and sending little gifts to other members, the women decided to have Girl's Day Out, a coffee and dessert social at Snipes Mountain Brewery Sunday afternoon.
According to Diana Carpenter, the organizer of Girl's Day Out, the event was more than just a time to get together and fellowship, it was also a time to honor their pastor, Katie Haney.
"We wanted to have a special recognition for her and her work with all of us women," said Carpenter. "We wanted to do something with just us girls."
More than 30 women of all ages joined together to honor Haney and present her with a large framed print of artistically written scripture.
"I have loved every minute I have been here," said Haney, overwhelmed by the gesture of the church women.
"Every pastor is so jealous," she said. "You guys are so great and so wonderful and so helpful."
. Melissa Browning can be contacted at (509) 837-4500, or e-mail mbrowning@eaglenewspapers.com