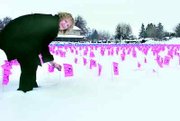 GRANDVIEW - Saturday, Jan. 3, after the first of what would ultimately be days of snowfall, Lower Valley Pregnancy Center Executive Director Shelley VanBuskirk and approximately 20 other volunteers, ranging from middle school students to other Lower Valley Pregnancy Center staff members, spent the afternoon planting flags in the ground at Blessed Sacrament Catholic Church in Grandview.
The 4,000 pink and blue flags make up the Pregnancy Center's National Sanctity of Human Life Day display. VanBuskirk explained that President George W. Bush proclaimed Jan. 18, 2004 to be National Sanctity of Human Life Day, and that the small flags that make up the local display represent the average number of children aborted each day in the United States.
VanBuskirk said this is the second year the Lower Valley Pregnancy Center has participated in the national event, which started in 1983 under the Reagan administration. She explained that the original idea behind the event was to give people a visual reminder of the value of human life.
VanBuskirk said she feels National Sanctity of Human Life Day is an important event to take part in because it gives people a reason to think about the value of human life. She pointed to the United State's constitution and noted that it provides for the protection of life, liberty and the pursuit of happiness.
She said there are many people out there who seem to challenge the idea that every life is precious. VanBuskirk said there are some people who think that the life of an unborn child or an elderly or infirmed person isn't as valuable as that of a productive person.
"All expressions of life are extremely valuable," VanBuskirk said.
And it's that idea that lays the foundation for National Sanctity of Human Life Day.
VanBuskirk said the 4,000-flag display is a way to make people stop, think and examine their feelings on the sanctity of human life.
"That's the whole point of this Sanctity of Human Life [event]," VanBuskirk said.
The flags will be on display at the Blessed Sacrament Catholic Church at the corner of Fifth Street and Velma Avenue in Grandview through Jan. 25.
This year a new component has also been added to the display. VanBuskirk said those who are interested can sponsor a flag this year. The cost to sponsor a flag is $5, and VanBuskirk said the money will go to support the Lower Valley Pregnancy Center. For more information on flag sponsorship contact the Lower Valley Pregnancy Center at 882-1899 or email the center at lvpc@bentonrea.com.
. Elena Olmstead can be contacted at (509) 837-4500, or e-mail her at eolmstead@eaglenewspapers.com