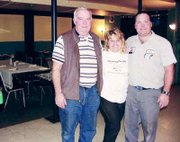 MABTON - Since the days of silent movies the building housing the Silver Dollar Tavern in Mabton has been a place for entertaining Mabton residents.
Under the false floor of the former movie theater there is still an orchestra pit where musicians would sit and play the music along with the silent films.
The tradition of entertainment continues on at the old theater. Since the 1940s Silver Dollar Tavern has been a familiar name in Mabton, but as times change so does the focus of the community bar. No longer is it just a place for a solitary drink and a game of cards, but rather the doors have opened to all ages. It is a place where families can meet for dinner and a place youths can visit after school for a game of pool.
It has become a community hallmark in a sparse downtown. A place where city employees can get a quick lunch and a place to hold large gatherings for young people in the area.
Slowly over the past few months the Silver Dollar Tavern, a long-standing favorite Mabton watering hole, has undergone change.
Small changes, such as tables being moved and walls being painted, have grown into bigger changes. One being a name change to Silver Dollar Inn.
Managers "Little" Mike and Linda Chester have worked hard to help grow the clientele of the small community bar and to create an atmosphere of more than just a bar. They continuously work to create an atmosphere to cater to all people. Chester said that along with the new high-tech security system installed at Silver Dollar, they are also putting in an Internet cafe, where people with laptop computers can gain Internet access.
One of the biggest steps has been changing the establishment's liquor license. Just yesterday (Monday), the state liquor board approved changing its liquor license to a spirit and wine license, which allows them to have a family restaurant.
"We can now focus on providing our area with a sit down family restaurant," said Linda Chester. "We have a real menu, not just a greasy spoon menu."
Chester added that instead of only being able to serve beer and wine, they will now be licensed to serve mixed drinks and cocktails.
"We have a whole drink menu," she said.
Going around to several lounges and nightclubs in the area to see how the businesses set up their liquor, Chester expected to be treated as competition, but they were instead greeted as family.
"We have gotten nothing but wonderful support from them," said Chester. "It's almost like they've welcomed us into their circle."
She said seeing all of the choices, they have decided to stick with old-fashion pouring in their lounge.
Chester's husband is currently in the process of building a liquor cabinet where one of the beer coolers once stood.
The change in the liquor license also allows the couple to hold special non-alcoholic youth events similar to the teen rap battle held this past Halloween.
From 3 to 8 p.m., at management's discretion, the game room will be open to youths, said Chester, which is something that they weren't able to do with the other liquor license.
On New Year's Eve, the Silver Dollar was filled with Mabtonites wanting to ring in the new year.
Every week, the establishment has poker games and Chester hopes that a dominos club will start.
"We're hoping to get back cribbage, because they used to meet here," she said.
With many plans being made, and little time to accomplish everything, the physical changes to the business have only scratched the surface. There is more paint to brush on the walls and ceiling, new countertops are on their way and a new floor is ready to be laid before the couple celebrates their grand opening in February.
By then the couple will be ready for the two-person play, "Love Letters," to be performed on the stage in the back ballroom named for the late Pam Chester, the "Queen of Silver Dollar."
The Chester's rent out the back room for parties with room for 100 to 125 people. She said there are also opportunities to rent the front restaurant portion of business or the whole establishment for a night.
In April, 2-4-7, a Portland, Ore. band that plays lounges all along the Oregon Coast, will be performing at the Silver Dollar Inn.
Red Dragon, a rock and roll oldies cover band from Selah, will also be performing on stage soon, said Chester.
"This is a part of Mabton," said Chester of the Silver Dollar Inn. "We have second and third generation customers, but this is more than just a bar, it's a place to come for entertainment."
. Melissa Browning can be contacted at (509) 837-4500, or e-mail mbrowning@eaglenewspapers.com