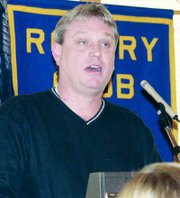 The Wal-Mart distribution center in Grandview will soon be opening its doors.
Rick Gray, manager of the new distribution center, which is the length of 15 football fields, was on hand at Monday's Sunnyside Noon Rotary meeting and said the center will see the first delivery of goods on March 1.
Gray provided Noon Rotarians with some history about himself and the background of Wal-Mart distribution centers. Gray also touched on some highlights of the new Grandview site.
Gray relocated to the Lower Valley from Florida to manage the area's newest economic attraction. Gray and his wife, Anna, have one son, Zach. Gray has worked for Wal-Mart for 19 years.
There are 160 Wal-Mart distribution centers throughout the country, said Gray. There are plans in the immediate future to build 14 more distribution centers, six of which will be only grocery facilities.
The Wal-Mart distribution center in Grandview is what is referred to as a conventional building, where everything is housed on ground level. Wal-Mart has a couple of revolutionary mechanical buildings, which go as high as 100 feet in the air, said Gray. Almost all of the items in the mechanical buildings are moved around by crane. One mechanical building is currently in operation in Texas and another is set to open in Alabama around the same time the Grandview site opens in March. Gray said more mechanical buildings are on the horizon for Wal-Mart because of their increase in productivity.
Gray said the Grandview site will begin receiving goods on March 1 and start distributing items later in the spring.
Once fully operational, the Grandview distribution center will have the capability of moving a half-million cases of products each day. Gray said at full capacity there will be 400 trucks going in and out of the Grandview site on a daily basis.
The Grandview distribution center will provide food goods to 42 super centers in the Washington, Oregon and Idaho territory. A super center is the type of store located in Sunnyside. Gray said Wal-Mart has plans to build 250 super centers with 50 of those stores being in the coverage area of the Grandview distribution center.
The jobs created by the construction of the Wal-Mart distribution center will be numerous, related Gray to Rotarians. The Grandview site will initially employ 450 full-time employees, with that figure set to expand to 650 within the next two years. To help oversee the distribution center in Grandview, Wal-Mart executives brought in 30 managers from across the country to the Lower Valley.
"We are very excited to be here," said Gray.
. Mike Kantman can be contacted at (509) 837-4500, or email him at mkantman@eaglenewspapers.com