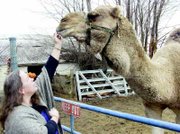 Driving down Tear Road southeast of Sunnyside there are fields upon fields, pastures where horses and cows graze in the winter haze. But, just before the road bends back to the south and turns into North Forsell, there is a pasture that contains the unexpected - two dromedary camels.
The large single-humped animals are owned by the parents of Lynn Henry, who now cares for the camels. The collection of animals was started in the mid-90s when Henry and her now ex-husband made a trip to Australia.
Henry said during their stay down under they came across a corral of camels and it was at that moment she knew she wanted to have a camel of her own.
"I said I wanted a camel and he [her ex-husband] didn't say no," Henry said.
Upon her arrival back in the United States Henry immediately began searching out information on camels, researching everything from how to care for the animals to where to find them. Ultimately, Henry said caring for camels isn't much different than caring for any other grazing animal.
Henry received her first camel in 1995, a pack camel, which eventually would become one of four camels in her collection. However, over the years two of the camels have been sold, leaving only two animals left for Henry to care for.
The two camels, Merlin and Guinevere, were purchased a year apart from each other. Merlin, who will be 10 years old Jan. 4, was purchased out of San Diego, while Guinevere, who is 8 years old, came from Spokane. According to Henry, camels traditionally live long lives, with many of the animals living 40 to 60 years.
Henry said camels are a relatively easy animal to take care of, and not too expensive to keep. She explained that camels eat a larger variety of food than most goats do, including pasture grass and just about anything else. Henry said the animals seem to really enjoy hot, spicy foods like habanero peppers.
She said the most expensive part of keeping camels is purchasing them. According to Henry, in the northern part of the United States camels, no matter what their age, are often sold for anywhere from $5,000 to $6,000, with the price increasing depending on how friendly the camel is.
Henry said breaking the camels when she first received them was a lesson in patience. She said camels don't buck like horses, instead they meander along and try to brush the person off its back. Henry said all she had to do was work to stay on the animal. Spitting was another habit the camels had to be broken of. Henry said it didn't take too long for Merlin to stop spitting after she started making him smell his own spit.
Henry, who suffers from several health problems, said all she does with the camels now is walk them when she can. She explained that the animals are smart enough to know she isn't in good enough health to be able to make them do what she wants them to, which is one of the reasons Henry's parents are still trying to sell the animals.
The two camels haven't always been housed on Tear Road. It wasn't until this summer that the animals made their way from a pasture on King Tull Road in Prosser to their new Sunnyside home.
Henry said when it came time to move the animals she couldn't find a trailer that was large enough to transport the camels. Instead, the animals made the 12-1/2 mile trek walking along the edges of fields and finally along the walking path that runs along Wine Country Road. Henry said the trek took about four or five hours, and once the caravan of camels made their way onto the footpath they caused quite a commotion. Henry said cars were pulling over along the highway with people running across the road to pet the large animals.
Henry said she enjoys caring for the animals and has found that they are intelligent enough to often times understand what is being said to them. She said they also remember things that are told to them. For example, if she promises to give one of the camels a treat for doing something, the animal will remember and will hold a grudge if she doesn't give them their treat, she said.
"They are really very smart," Henry said.
. Elena Olmstead can be contacted at (509) 837-4500, or e-mail her at eolmstead@eaglenewspapers.com