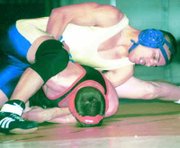 WEST RICHLAND - After starting the Mid-Valley League season an uncharacteristic 0-2, the Sunnyside High School wrestling team got back on the winning track with a convincing 46-20 victory over Hanford.
"We wrestled well last night," said Sunnyside Coach George Paulus. "We wrestled with a bit of emotion last night, which we have been trying to do (all season)."
It didn't look promising at the beginning for the Grizzlies. Michael Christensen made some mistakes late in his match at 119 lbs. with Hanford's Ken Pulsiphe and was pinned in 5:37. Paulus said he felt this was a match Christensen could have won, but got caught off guard late in the bout.
Greg Burbidge won by injury default in the first round of his match at 125 lbs. for the Grizzlies.
Eric Garcia had a convincing win for Sunnyside at 130 lbs., taking a 7-2 decision over Hanford's Aaron Edmonds.
At 135 lbs., Omar Magana pinned Hanford's Taylor Gropper in 5:50.
Rudy Martinez picked up a first round win in his 140 lb. match over Hanford's Dillon Roueche. The time of Martinez's pin was not available.
Ray Romero had an easy night for the Grizzlies at 145 lbs., pinning Hanford's Kellan Cox in 1:16.
Daniel Mendoza lost a 9-2 decision at 152 lbs. to one of Hanford's big guns, Clay Underwood. Paulus said Mendoza made some mistakes late in the match that accounted for the final deficit.
At 160 lbs., Sunnyside's Reece Paulus met up with another of the Falcons' top dogs in Jared Stoker. Paulus wrestled well, despite losing a 9-5 decision. The coach said his son was only behind 6-5 going into the final round.
Joe Evans made a couple of impressive statements in his 171 lb. match with Evin Dodson of Hanford. Evans won his match by pin in 1:55, but recorded six takedowns in the first round. The six takedowns Evans scored boosted his season total to 82. His effort last night set a new Grizzly wrestling takedown record. Evans surpassed the record of 80 set by Charles Espinoza in the 2000 season.
At 189 lbs., Carlos Padilla-Garza lost a 10-0 decision to another of Hanford's top wrestler's, Cody Bradshaw.
Gabe Lara manhandled Hanford's Logan Romhe at 215 lbs., winning a 10-2 decision.
Pete Garza got back on track for the Grizzlies at heavyweight with an impressive 10-6 victory over Cody Myers, another one of the Falcons' notable wrestlers.
Jesus Alquicira won by forfeit at 103 lbs. for Sunnyside.
Alex Valencia ended the night for the Grizzlies at 112 lbs. with a 15-7 loss to Hanford's Brandon Edwin.
Sunnyside will be at home this Thursday against Wapato.
. Mike Kantman can be contacted at (509) 837-4500, or email him at mkantman@eaglenewspapers.com