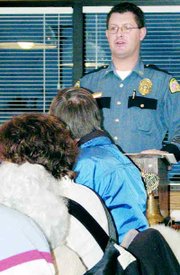 Sunnyside Police Captain Phil Schenck falls into an elite group law enforcement officers in Yakima County, all of whom have attended the FBI leadership academy in Quantico, Va. It is one of the best leadership training opportunities in the world for law enforcement officers, said Schenck.
He shared with members of the Sunnyside Kiwanis Club about his 12-week training at the prestigious National FBI Academy, which he returned from Dec. 5.
About three years ago, Sunnyside Police Chief Ed Radder nominated Schenck for the academy.
"Normally, there is a seven to 10-year waiting list," said Schenck.
Each state is allowed three students at each of the four sessions held at Quantico annually. The session Schenck attended had four Washington state law enforcement officers attending.
With classes filled with 240 police chiefs, captains and lieutenants from around the world, Schenck said he had the opportunity to learn about other ways law enforcement is conducted. A friend from Colombia shared with him that police work in his South American country consists of strapping on a backpack and a machine and being dropped off in the jungle for a week to bust drug manufacturers. Schenck also made friends from Gambia, Nepal, Colombia and England. There were participants from 48 states and 21 countries.
Schenck said he was fortunate in that he had a year to prepare for the academy. He lost 15 pounds in preparing for the physical fitness aspect of the academy.
"It was like boot camp," said Schenck.
Every week there was a challenge run the students would participate in. The run started at about one and a half miles and each week half a mile to a mile was added. At the end of the 12-week session, Schenck went on the "Yellow Brick Road," a Marine obstacle course that is about five miles long. Before going through the obstacle course he had to run three miles down to it. His reward for completing the course is a painted yellow brick, which now sits in his office at the Sunnyside Law and Justice Center.
Besides the physical aspect of the academy, Schenck said there was an academic component.
He received extra college and graduate credits through the University of Virginia in managing organizational change, public speaking, extremist groups and labor law.
"I actually doubled up on the communication courses," he said.
He also applied to be a part of the "leadership challenge." He was one of 16 chosen to participate in the leadership group for his class of 240 at the academy.
Schenck said he hopes to use his new skills to help the police chief in making the department better.
"This was really good leadership training," he said.
Schenck is only the second officer from Sunnyside to attend the academy. Retired police officer Mike Alvord also attended the academy. Grandview and Wapato's police chiefs have also attended the academy, as well as a handful of Yakima officers.
. Melissa Browning can be contacted at (509) 837-4500, or e-mail mbrowning@eaglenewspapers.com
Melissa Browning/Daily Sun News