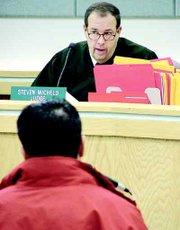 Disappointing" was Tukwila attorney Phillip Talmadge's reaction to hearing that Sunnyside Municipal Court Judge Steven Michels' appeal to the U.S. Supreme Court has been denied. The court reportedly has declined to hear Michels' petition.
"We haven't received official confirmation that his appeal has been turned down," said Talmadge this morning.
Michels had filed a writ of certiorari in December with the U.S. Supreme Court, asking the Court to review and evaluate the Washington State Commission on Judicial Conduct's investigation methods.
Talmadge said the refusal to hear Michels' case has been filed on the U.S. Supreme Court's web site, but Talmadge said he has only heard about the U.S. Supreme Court's rejection via a Wednesday morning newspaper article.
Michels' petition contends he was treated unfairly by the Commission during its investigation of his time as a judge pro-tem in Toppenish Municipal Court between 1996-2001. The Commission took nearly three years to conduct its investigation, charging Michels with serving as both lawyer and judge in numerous cases in the neighboring community. "It was frustrating that the Commission was slow in its investigation before bringing the issue to Michels' attention," said Talmadge.
"He would have made changes to the situation sooner if the Commission has alerted him to its concern before deciding to censure him," Talmadge added.
Michels, who is now back serving on the Sunnyside court bench, maintained throughout the Commission's lengthy investigation and the subsequent censure that any violations of the state Judicial Code were unknowing and unintentional.
Early on Talmadge said he had hoped Michels' case would intrigue the Supreme Court Justices.
"We are disappointed, but we realized it would be difficult to get a review," he said.
Talmadge said the U.S. Supreme Court only accepts between 90 and 100 cases a year from state and federal courts.
"It's tough to get a shot at a hearing," Talmadge said.
In the meantime, Michels has complied with the Washington State Supreme Court's censure ruling, which included a four- month suspension from the bench without pay and subsequent judicial training.
. Julia Hart can be contacted at
(509) 837-4500, or you can e-mail her at jhart@eaglenewspapers.com