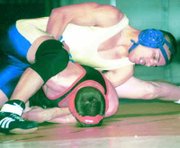 MABTON - Home was a nice place for the Mabton High School wrestling team last night.
The Vikes in their first home meet of the season hosted Highland and RiverView. The meet against Highland was a league encounter while the one against the Panthers was non-league. Mabton is now 1-0 in league and 4-4 on the season. All four of Mabton's losses were against 4A schools at the Best of the West tournament in Pasco earlier this season.
In their first mat action in 10 days, the Vikings pounded Highland 51-12 and dominated RiverView 33-9.
"The kids were ready to go," said Mabton Coach Ron Rutz.
Against Highland, Mabton forfeited matches at 103 and 189 lbs. Neither team fielded wrestlers at 119, 171 and 275 lbs.
Against RiverView, no matches were held at 103, 119, 140, 189 and 275 lbs.
Andy Torres won the first match of the night for the Vikings at 112 lbs. Torres defeated Highland's Eduardo Flores in 3:49. Against RiverView, Torres won by forfeit.
"Andy looked pretty good," said Rutz.
Abel Barcenas won his match at 125 lbs. for Mabton against Highland by forfeit. Barcenas won a tight 3-1 decision in his other match of the night against RiverView's Ben Adams. Rutz said Adams was an impressive wrestler, adding the match provided more than a few anxious moments.
At 130 lbs., Mabton's Alex Gutierrez showed he doesn't get paid by the hour. Gutierrez devoured Highland's Rudolfo Sotelo, winning by pin in 43 seconds. Gutierrez then tossed around RiverView's Skylar McKnights, taking the fall in 1:30. Rutz said Gutierrez put on a display last night before a nice home crowd.
At 135 lbs., Mabton's Marcos Zepeda had an easy time of it against Highland's Zach Bogle, winning a 12-3 decision. Zepeda scored seven points in the third round. Zepeda had a closer match against RiverView's Devin Bergman, winning 5-3. Rutz said Zepeda couldn't nail a takedown throughout the match.
Javier Galvan won by forfeit at 140 lbs. against Highland. Galvan bumped up to 145 lbs. for his match against RiverView's Ben Buck, winning a 6-1 decision.
Jovanni Ochoa wrestled for Mabton at 145 lbs. against Highland, winning by forfeit. Ochoa moved up to 152 lb. in his match against RiverView's Jonathan Dixon-Gier, taking the fall in 1:28.
Cesar Macedo pinned Highland's Miguel Estrada in 3:21 in the 152 lbs. match. Macedo bumped up to 160 lbs. for his match against RiverView's Bryson Bates, losing by injury default in the first round.
Oswald Fonseca gained a forfeit victory at 160 lbs. for Mabton against Highland. Fonseca moved to 171 lbs. against RiverView, losing an 8-6 overtime decision to Verland Gaskill. Fonseca was up 6-3 with 45 seconds left in the match when he was taken to the mat. Rutz said Fonseca put forth a valiant effort to send the match into overtime, staying up in a bridge for the final 40 seconds of regulation.
Robert Marquez won both his matches for Mabton at 215 lbs. last night by forfeit.
The Vikings will be wrestling this Thursday at White Swan.
. Mike Kantman can be contacted at (509) 837-4500, or email him at mkantman@eaglenewspapers.com