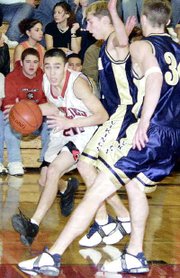 There's ugly...and then there's UGLY. The play of the Sunnyside High School boys basketball team last night was the latter.
Selah's Vikings stormed into the Grizzly gym Tuesday evening and made off with a 60-35 victory. The rout was keyed by standout shooter Eric Bell, who knocked down 75 percent of his shots from the field enroute to dumping in a game high 22 points. Viking teammate Dane Peterson aided Selah's cause by chipping in 10 points.
Selah, as a team, shot 50 percent from the field, making 22-of-44 field goal attempts. Sunnyside could get just nine shots to fall out of 32 attempts.
"It was ugly," said Grizzly Coach Steve Urrutia. "I really don't have an answer."
As poorly as Sunnyside played, the Grizzlies were only down by eight at the half. Any thoughts of staging a comeback after intermission quickly went by the wayside, though, as Selah outscored the Grizzlies by a 16-7 margin in the third quarter. The Vikings then buried the Sunnyside boys with an 18-10 showing in the final period of play.
Sunnyside's leading scorer this season, junior Jake Thomas, never could get untracked last night. In fact, Thomas was held scoreless by the Vikes. The 6'6" junior sat the entire fourth quarter. With the Grizzlies ineffective with their shots from the perimeter, Selah was able to sag down low on Thomas and kept him bottled up in the lane.
Hence, the scoring load shifted for Sunnyside, and it was senior Jessie Ramirez and junior Reid Schilperoort trying to pick up the slack. Ramirez ended up as the Grizzlies' top scorer, pushing in a team high 12 points. Schilperoort added 8 in the losing cause.
The two Grizzlies' efforts were negated, though, by Bell, whom it seemed couldn't miss last night.
"We couldn't stop Bell," said Urrutia. "We had hands in his face all night long, but his shots kept falling. The guys were scratching their heads and looking at me, wondering what to do."
Selah (2-1, 7-1) also had its way with the Grizzlies on the boards, pulling down 44 rebounds to just 25 by Sunnyside.
"The second half, it was basically one shot and out for us," Urrutia said. "It wasn't pretty."
In hoping to rebound from last night's shellacking, the Grizzlies have their work cut out for them. Their next game is scheduled for Friday night at West Valley. The Rams are currently 4-0 in conference play, 9-0 overall. Sunnyside has a 1-2 league mark, and is 2-7 overall. Saturday night the Grizzlies are at home against Wapato.
. Bob Story,can be contacted at
(509) 837-4500, or e-mail him
at bstory@eaglenewspapers.com