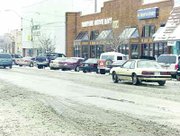 The heart of any community most often lies in the prosperity of its downtown. And despite what some may think, the heart of Sunnyside is not in too bad of shape, believes Sunnyside Inc. Executive Director Marshall Doak.
Many people remember the prosperous downtown of Sunnyside from the days of the Planters Hotel to the pharmacy that used to sit where H&H Furniture calls home now.
"What it (the downtown) is going to be is not what it was," said Doak. "I think it (the downtown) needs to evolve into the cultural heart of the city."
Doak said he would like to see a variety of businesses in the downtown sector, ranging from restaurants to "mom and pop" stores.
The downtown area in Sunnyside faces plenty of obstacles in achieving sustainability, said Doak.
"Sunnyside is not unusual," he added.
The downtown has to compete with such local retail giants as Wal-Mart and the Mid-Valley Mall to survive. Doak said these businesses are able to extend their hours and offer a variety of prices for products, which makes it hard for downtown businesses to compete.
Parking is another issue hindering the downtown area, said Doak. The parking spaces don't conform to what is needed in the downtown to make it successful. Doak said people will go somewhere where there is easy parking, even if they have to walk a few extra steps.
Sunnyside, overall, faces major obstacles when it comes to drawing a large retailer, said Doak. While there might be 14,000-plus residents in the community, Sunnyside is located in the center of two major retail areas, those being the Tri-Cities and Yakima. Doak said many large retailers would rather build in those areas because of the population base.
"Without a certain number of people (in a community), they (large retailers) aren't even going to begin to look at you," said Doak.
Doak also points out much has changed since the heyday of Sunnyside's downtown. With the construction of the interstate and improvements in automobiles, it is not difficult or time consuming to travel to Yakima or the Tri-Cities.
Sunnyside Inc. had been involved heavily with trying to revitalize the downtown area, said Doak. Since its inception in the late 1980s, Sunnyside Inc. worked with the Uptown Sunnyside Association (USA). Doak said the efforts with the USA organization were very detailed.
"It was a very thorough process (done by USA) to determine the needs of the downtown," said Doak.
Doak said the USA organization came up with several good ideas, but struggled to implement them because of the lack of a cooperative effort by downtown businesses. The USA organization ceased to exist in the late 1990s, but Doak said there were several good concepts that came out of the organization's work. Doak said the organization even came up with a conceptual idea of what it would like to see the downtown area look like.
For any kind of downtown revitalization to be successful, Doak said the entire community, from the residents to the businesses to city government, are going to have to buy into the ideas and work together to implement them. Doak said any efforts can't go to waste. Doak said people shouldn't expect Sunnyside Inc. to lead the charge to revitalize the downtown.
"We recognize the benefits of a revitalized downtown core," said Doak. "But, there has to be community buy-in."
Doak disputes some people's ideas that the downtown is a wasteland.
"I don't think Sunnyside's downtown is doing all that poorly," said Doak. "The downtown is very well defined."
With a few exceptions, notably the former KFC and Egley buildings, buildings in the downtown are not sitting empty, Doak said. Over Thanksgiving break, Doak was in a Colorado community of similar size to Sunnyside that had a vacancy rate of 40 to 60 percent in its downtown.
The community also needs to understand, said Doak, the way to obtain a thriving downtown is to offer recreational activities or a community gathering site, such as Centennial Square. Doak views the downtown park as one of Sunnyside's assets.
"The retail will follow if people come to downtown for the social part," said Doak. "I don't know of many towns in America that have a park right at your core. A lot of (business) opportunities would open up if we could find ways to bring people to the downtown."
Doak praises the efforts of the Foundation for the Community of Sunnyside in the group's plans for building bronze statues depicting Sunnyside's history. Doak said more efforts, like the placement of the statues, need to be done to attract people to the downtown area.
Doak said a prosperous downtown is important because it shows a community is thriving.
"Empty storefronts mean you are regressing," said Doak. "Everybody sees that there is so much potential here. I am very optimistic about this community."
City of Sunnyside Planning Director Pete Squires is working on a plan to promote development in the downtown core. The project is part of the city's overall comprehensive plan.
Squires said part of his department's downtown revitalization plan is implementing zoning for mixed use areas. An example of a mixed use designation is an apartment loft in a business area. Squires said downtown areas with mixed use designation tend to survive a lot more than those without.
Squires said his reasoning for promoting mixed use designation is if someone is living in the downtown, they are more than likely to stay downtown to do their shopping. Mixed use designations also increase a lot's property value.
Once the comprehensive plan is completed by the city, which Squires expects to have done late this year, and is approved by the county and the state, he will be able to rewrite the zoning ordinances for mixed use.
Much like Doak, Squires sees a lot of potential for growth in the downtown area.
"I think Sunnyside's downtown has the potential to be something interesting," said Squires. "It has a nice character to it."
Squires believes the downtown area has a lot of positive attributes that haven't been fully exploited yet.
The problem with promoting the downtown core is there is not a real unifying effort by those involved to better the area.
"We need to establish that sort of unity in downtown," said Squires. "Once that happens it is like a snowball effect. Things will take off."
Overall, Squires agrees with Doak that downtown is not in that bad of shape economically. Squires said there are several businesses that have been the anchor in the downtown area for quite a few years. He added, though, there are several locations with quite a bit of turnover.
One area that hurts the downtown is the lack of diversification. Squires feels the downtown needs to have that diversification to attract people and be successful.
"There is a demand for that (diversification), which is not being met," said Squires.
A lot of the demand for diversified businesses in downtown can be met by expanding the city's zoning ordinances, said Squires, which he plans on working on.
The businesses in the downtown also need to come together and work on establishing guidelines. Squires said one of the reasons malls work so well is that they have strict operating guidelines.
Having a prosperous downtown area is key to a successful community. Squires said the city and downtown businesses need to start taking advantage of the attractions in the area to bring people in.
"A downtown that is healthy is sort of the heart of the community," said Squires. "When there is a sense of stability people are going to be more likely to care for their community."
Squires went back to his earlier thoughts about the most successful way to improve the downtown is through a unified effort of the business owners and to promote diversity. Squires said from an economic development standpoint, combined efforts of the businesses will help promote success.
"Once you have a couple of successes, it breeds other successes," said Squires.
. Mike Kantman can be contacted at (509) 837-4500, or email him at mkantman@eaglenewspapers.com