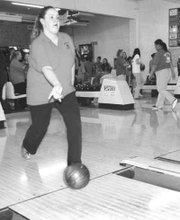 Freshman Angela Brown's 327 two-game series powered the West Valley Rams to a 4-0 sweep of the Sunnyside High School girls bowling team yesterday afternoon.
Competing at Sunnyside's Valley Lanes, the Rams won the first two contests by 733-570 and 686-620 scores. In the two Baker games-where each member of the five-girl squad alternates taking turns throughout the 10 frames-the Rams were victorious by counts of 138-113 and 129-101.
Brown was the lone bowler to reach the two-game 300 plateau, on efforts of 173-154. Ram teammates Michelle Froelich and Shannon Hauff came close, though. Froelich totaled a 296 in the first two games (158-138), and Hauff tallied a 293 (147-146).
Sunnyside's top competitor yesterday was sophomore Katie Weets, who threw a 272 on games of 114-158. Junior Desiree Pritchett wasn't far behind her teammate, rolling a 134-118 for a 252 series. Also competing for the Lady Grizzlies Thursday were freshman Veronica Uribe (88-140), senior Amber Gonzalez (124-100) and senior Cassie Coder (110-104).
In JV action yesterday, West Valley won by a similar 4-0 score. Heather Stoltz had the top two-game series for the Rams, throwing a 115-159.
Maribel Rodriguez and Maria Barcenas were the Sunnyside JV's top two bowlers. Rodriguez had games of 105-150, and Barcenas shot 122-111.
In a 'C' squad match yesterday, the Rams won 4-0. Sunnyside's top bowlers were Kayla Coder (104-159) and Christine Cleghorn (133-101).
. Bob Story,can be contacted at
(509) 837-4500, or e-mail him
at bstory@eaglenewspapers.com