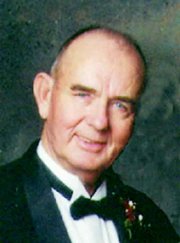 Donald Max Hanks, the former manager of the Sunnyside City Airport and owner of Valley Air Service, died peacefully on Dec. 20, 2003, in the house where he was born at Shelley, Idaho.
A gifted pilot, avid horseman and retired U.S. Army lieutenant colonel, Hanks was 77 years old when he succumbed to cancer. His home was filled with family, friends and warmth during his last weeks and he was vibrant to his final days.
He is survived by his wife of 59 years, Barbara Jean Poll; daughters, Susan Fernald (Greg) of Hanford, Calif., Alison Addicks (Gary) Rice of Washington state, Maxine Hanks of Salt Lake City, Utah and Jeanie van Amen (Darrell) of Seattle; 11 grandchildren and seven great-grand children.
He was born June 7, 1926 to Edith Hanson Hanks and Edward Alma Hanks in Shelley and he attended school there. He married Barbara Jean Poll on June 21, 1944 in Idaho Falls, Idaho. He was called to active duty in the Army Air Force in 1944 and qualified for pilot training. After an honorable discharge in 1945, he joined the Army Reserve, then transferred to the Idaho National Guard in 1953 and was commissioned a second lieutenant in 1957. Hanks retired from the U.S. Army Reserve in 1979 with the rank of lieutenant colonel and a senior pilot's rating. He was a life member of the Retired & Reserve Officer Assn.
Hanks learned to fly on the G.I. Bill and soloed in 1946. He received his private pilot license in 1947 and his commercial pilot's license in 1948 with multi- and single-engine, instrument, helicopter and instructor ratings. His career as a pilot spanned nearly 50 years, flying all types of private aircraft, from fixed-wing to helicopter and military planes to private and leisure aircraft. He flew as a commercial pilot in Utah, Washington and California. His love of flying drew his family to Walla Walla in 1964, where he worked for Blue Mountain Aviation. Two years later, he moved the family to Sunnyside, where he and his wife, Jean, purchased Valley Air Service and managed the Sunnyside City Airport, with partner Darrell Jackson.
Hanks loved his work and associations in the Yakima Valle. His family lived on the Sunnyside Airport and his daughters grew up there. His son-in-law, Greg Fernald, a pilot, became his business partner in 1971. Valley Air Service offered charter flights, pilot instruction and aerial application ("crop dusting"). His ag-planes in the early morning and night skies were a common feature in Sunnyside, during his years at the airport, 1966-1979. In addition to spraying crops, orchards and fields, Hanks ferried people and equipment, and even put out fires from the air. His role in the community and in life was beautifully lauded in a letter to the Sunnyside Sun, on Aug. 7,1975:
"Dear Max: It was so very kind of you to take time out of your busy crop dusting schedule and fly to Seattle to get us a new compressor and thus save us a day's milk. Our sincere thanks to you Max. You are our busy dusting 'Eagle' swooping down and dusting our lower valley crops and saving them from destructive pests. It seems to us a very risky business. But we hope and trust that our large and graceful 'Golden Eagle' may in God's kind providence continue many years to care for our lower valley crops. A verse from Emily Dickenson comes to mind regarding your work: 'I live for those who love me, For those who love me true; For the heaven that smiles above me, And awaits my spirit too. For the good that needs assistance, For the wrong that needs resistance, For the future in the distance, And the good that I can do.' Sincerely, Bert Roskamp."
Flying was the love of Hank's life, and he was never happier than when in the sky. His family, friends and associates have unforgettable memories of flying with Hanks. He flew daily, in all types of weather and circumstances, surviving several air emergencies and 15 airplane accidents. He wrote about his flying experiences in a memoir, entitled, "I Wanted to Fly." During his tenure at the Sunnyside Airport, he was an officer of the Washington Agricultural Aviation Assoc. and served as the delegate to the national organization, the NAAA.
Hanks sold Valley Air Service in 1979 and retired to Shelley. There he trained and rode horses for nearly 20 years, competing in small rodeos, riding on cattle roundups and trail rides in Idaho, Wyoming and Montana. He was a member of Shelley Riding Russets and completed all 13 segments of the 1,350-mile Chief Joseph Trail Ride. He enjoyed being a volunteer at the Shelley Senior Center, serving on the board and as the chairman for several terms.
Hanks enjoyed reminiscing about his life's experiences and hearing from his friends. He loved life, lived it to the fullest, and treasured his friends and memories.
The former Sunnyside Airport manager was diagnosed with cancer in November 2001 and did all he could to maintain his health and vitality to the end. He stayed active, loved to play the drums and sing with his fellow musicians for the seniors' dances. He enjoyed lucid, animated association with family and friends until his last days.
His funeral service was held on Tuesday, Dec. 23, 2003 in the LDS Church, Shelley. He was a member of the Church of Jesus Christ of Latter-day Saints, and was buried in the Shelley City Cemetery.