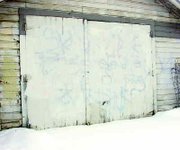 Driving down the alleys of Sunnyside the marks of gang graffiti are evident on fences, garbage cans and garages.
The blue paint of the "south" gangs and red for the "north," the back allies are much like a war zone with rival gangs crossing out competitors scrawls to write their own. But in recent months, the "war" has left the trenches and spilled over into the streets as homes and businesses in town have been the target of gang graffiti. In December, 13 reports of graffiti were made and so far this year four additional reports have been filed, according to Sunnyside Police Department records.
Apartment buildings and houses have been targeted with gang graffiti, said Capt. Phil Schenck of the Sunnyside Police Department.
"Usually when it's on a residence it's an abandoned residence," said Schenck.
He said this week paint markings on an apartment building was reported.
"We have reason to believe that the people who wrote the graffiti is related somehow to someone who lives there," said Schenck.
A house on Ninth Street has been hit because it's vacant, according to Schenck.
"People who have rental property should rent it to help prevent graffiti," said Schenck.
As graffiti is investigated, Schenck said officers take pictures to compare the styles to other vandalism in the area.
"Much of the graffiti that's showing up right now is being done by the same individual," said Schenck.
Usually, an increase in graffiti in town signifies that someone just got out of jail or is just joining a gang, said Schenck.
"We're definitely seeing an increase in gang related activity," he said. "It is nothing compared to the mid 90s, but it is something we're trying to address."
In most cases, graffiti is found in areas that aren't well lit, said Schenck. He explained that buildings in well lit and high traffic areas that have recently been vandalized are most likely being hit by people living nearby.
The real problem has been covering up the graffiti, which is also a deterrent to the spray painted scrawling.
Schenck said spray paint is very inexpensive, but property owners who have been tagged with graffiti want to match up paint on their existing building.
"Paint is expensive and it is very hard to get it to match up this time of year," said Schenck. "We're kind of in a dilemma right now because its not warm enough to paint."
"We're dealing with typically kids who don't go to school," said Schenck. "These kids don't have any responsibilities."
He said the police department is still involved in a partnership with the school district, but a lot of the kids are not involved in the school district.
"We need people to call us when they see something out of place or when they see something suspicious," said Schenck.
The Sunnyside Police Department is taking measures to help curb graffiti in Sunnyside, and Schenck said it could be worse.
"We've got an officer that focuses on gang activity," said Schenck. Officers are also contacting people in areas that have been targets for graffiti.
He added that the police department is offering rewards for information leading to the arrest of suspects in the graffiti cases.
. Melissa Browning can be contacted at (509) 837-4500, or e-mail mbrowning@eaglenewspapers.com