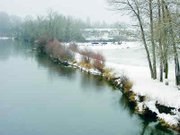 What is the Chamber and how can it help me," was the topic of discussion at a special Sunnyside Chamber of Commerce membership meeting held Thursday night at Navarro's Family Community Center.
Trying to explain the Chamber's mission in simple terms is not an easy task, said Tom Gaukle, the current president of the Sunnyside businessmen's group.
"To me, the Chamber is a place to go when a business needs help," he said. "It's a place to network with others who may have handled the same issues," he explained.
"Mostly it's about getting to know one another," said the veteran Chamber member.
But helping people and getting to know one another is one goal the Sunnyside Chamber is failing to meet, according to a group of Sunnyside Hispanic merchants.
Several Hispanic businessmen attended the meeting, asking about the lack of support from the Sunnyside Chamber board during the dispute over the Sunnyside City Council's mobile vendor ordinance last year. They questioned the Chamber board if it was going to help the small businessmen with these types of issues in the future.
"If not, what is the advantage of Hispanic business owners joining the Chamber?" asked Jose Mora, owner of El Conquistador Restaurant in downtown Sunnyside, as well as several small businesses in the community.
One of the Hispanic businessmen's complaints about the Sunnyside Chamber has been that it doesn't represent them or stand up for their concerns.
Last night's meeting was held as part of an effort to reach out to Sunnyside's under-represented Hispanic retailers and restaurant owners, following a meeting in December when representatives from the Tri-City Hispanic Chamber of Commerce was in town to recruit new members.
Learning that the Hispanic business community felt left out of the decision making process, the Sunnyside Chamber board organized the Thursday night meeting to explain its services and function.
Chamber board members, attending last night's meeting, said part of the problem in misunderstanding each other falls on the shoulders of both Anglos and Hispanic businessmen.
"Perhaps we've not reached out as much as we could have," admitted Gaulke. "We haven't been a very politically active group in the past," he added, noting perhaps it's time to become more active in that area.
"And, perhaps, we have to ask more questions," said Jim Ortiz, a community member who was helping with Spanish translations of the discussions held during last night's gathering.
"We act for all chamber members," said Kathy Corliss, director of tourism and promotions, but we don't have the ability to change things, she said. "We do have the ability to ask for change, " she added.
Even non-Chamber members can ask questions of the organization, said Gaulke. He encouraged the businessmen to seek out Chamber board members with their concerns.
"We'll take them to the Chamber board to ask what our position is on any given topic," Gaulke promised.
"But in order to affect change we have to know your concerns," he added.
"We need to support each other," agreed Fred Aviso, owner of Electra Appliances, a small appliance store in downtown Sunnyside.
"It's important for us to be as one," Aviso said. "I welcome the opportunity to learn more about the Chamber," he added.
Discussion also centered on recent criticism of Sunnyside Councilwoman Bengie Aguilar's efforts to bring both the Hispanic and Anglos business communities together for the type of dialogue held last night.
"I'm offended by the attacks on her (Aguilar)," said Sunnyside mobile vendor Antonio Chavez. Chavez, the owner of Las Palms, said the criticism that Aguilar was trying to divide the community was unfair.
"How can the community be divided when we've never been included," he said.
"She (Aguilar) brought us to the table tonight," said Aviso. "She is trying to bring us together," he added, asking that the people attending the meeting recognize that as fact.
"Because of her leadership we have are no longer invisible," he said. "Now the community (as a whole) is beginning to see us as a force."
But allowing Aguilar to take all the heat for her support of the Hispanic business community should never have happened, said Ortiz. "It shouldn't be allowed to continue," he said.
Ortiz went on to encourage the merchants to show up at council and chamber meetings.
"If there is a need for an interpreter, bring one. If you can't, say what's on your mind anyway," he urged. "That fact is you have a voice. Speak up."
"We all have to change how we behave," agreed Gaukle.
He invited the prospective Chamber members to attend future Chamber meetings.
"We can adapt to meet every one's needs," he said, "But we need your input, we have to hear your concerns."
Saying last night's two-hour meeting was a good start, several of the downtown businessmen said they are interested in joining the Chamber and attending future meetings. However, they wondered if the meetings might be held at different times.
Currently, the Chamber board meets at noon on the third Friday of each month. "That is certainly worth considering," Gaukle said.
. Julia Hart can be contacted at
(509) 837-4500, or you can e-mail her at jhart@eaglenewspapers.com