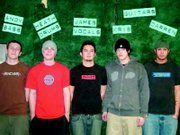 GRANDVIEW - The five members of Keno, a Grandview-based pop/punk band, has the opportunity of a lifetime ahead of them. The band members have recently been signed by Jet Speed Records in California to produce a 12-song album.
The full-length recording will feature 12 songs, seven of which are new cuts by the group. Since 2000, the band has made four sample recordings of their music, many of which are floating around the Northwest and California. Although the band has been aggressive in how they pursue their music career, they don't know for sure how their music got into the hands of Jet Speed Records.
According to drummer Heath Ripplinger, the members of Keno are preparing for their coming trip to California, where they will record the CD. He said they will most likely return to the Lower Valley before going on tour.
The original members of Keno, bass guitarist Andy Smith, 21, singer James Timmons, 22 and drummer Ripplinger, 21, started the band in 2000. Ripplinger and Smith grew up next door to each other and became friends with Timmons when he moved to Grandview while in the eighth grade.
This past year two additional band members, Kris Bennett, 20, and Darren VanCorbach, 18, both of the Tri-Cities, joined the group to play guitar.
"We enjoy playing music a lot," said Ripplinger. "It's a true passion for us. We are very serious about our music."
The band often plays Ray's Golden Lion in the Tri-Cities, but they have also played venues in Seattle, Moses Lake and one summer they played in Sacramento.
In 2001, the band played in Vans Warped Tour, a large alternative music concert. They performed on the stage for Drive Thru Records.
"We're really good friends with the owner of Drive Thru Records," said Ripplinger. "He's going to put us on his next compilation CD."
Currently, though, the band is preparing to make a CD for Jet Speed Records. He said Jet Speed Records has been a company that artists can pay to make their albums, but Keno was signed by the company.
"We don't have to pay a dime for ours to be made," said Ripplinger.
Besides being recognized for their work by the record company, Ripplinger said he also has an endorsement with Orange County Drums and Percussion.
"They built me my drums," he said.
. Melissa Browning can be contacted at (509) 837-4500, or e-mail mbrowning@eaglenewspapers.com