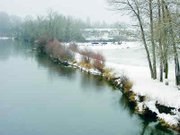 After the inches and inches of snow fell on the Yakima Valley last week, many weather forecasters were calling for flooding to be the next situation to overtake the area.
Although no flooding has occurred so far, Jim Hall with Yakima County Emergency Management hinted that we're not out of the woods yet. He said forecasters have not ruled out minor flooding due to recent weather.
Hall said areas in the Yakima Valley that typically experience flooding are flat areas along the Yakima River. One such place is Granger, just eight miles away from Sunnyside.
Granger Public Works Director Jack Burnes said one of the most common places the town sees fairly regular flooding is near Hisey Park. The pond located in the park is directly adjacent to the Yakima River.
Burnes said flooding in the area occurs so regularly that it's something that is rarely thought about any longer.
"It seems like it's getting to be an every year occurrence," Burnes said.
He said when the area does flood, if the water gets high enough it can get into the town's wastewater treatment plant and into some equipment, though he said because of the way the system is put together flooding rarely affects the plant's operations.
Burnes said the town doesn't traditionally have a sand bagging campaign to deal with flooding in the area. Instead, once the water level goes back down the crew simply goes out and mops up.
Burnes said regardless of how quickly the snow melts over the course of the next few days he is sure that sometime this year Granger will see high water flowing in the Yakima River.
"I anticipate we'll have high water regardless of what happens," he said.
For Sunnyside Public Works Director Ken Ott, flooding along the Yakima River isn't as big a concern as having areas of town flooded from rapidly melting snow.
He explained that the flat area of Sunnyside is more susceptible to flooding when snow starts melting, especially if street drains have been covered with piles of snow.
Ott explained that one of the best ways to guard against neighborhood flooding is by watching where snow is piled when it is initially shoveled or plowed. He said for individual homeowners it's important to take into consideration where snow is being shoveled.
He suggested being sure to shovel it away from places like basements, crawl spaces and garages. He explained that this way when the snow eventually melts water won't seep into those areas.
Ott said as far as storm drains go, the city crew tries to ensure they are all clear so when melting begins the water has a place to go.
However, at this point in time Ott said the area has been experiencing a fairly slow, consistent melt, meaning that the threat of flooding is minimal.
Hall said as long as long as temperatures stay in the 30s, the snow will melt in a consistent manner.
. Elena Olmstead can be contacted at (509) 837-4500, or e-mail her at eolmstead@eaglenewspapers.com