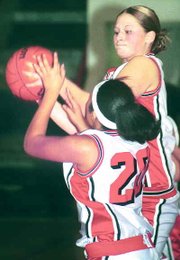 It was an up-and-down weekend for the Sunnyside High School girls basketball team.
The Lady Grizzlies traveled to the hostile grounds of West Valley Friday night, losing 50-29. Sunnyside returned home Saturday night to go up against Wapato, eking out a 39-37 win.
On Friday night, it looked as if the Lady Grizzlies were going to be blown out of the water, after being blanked 20-0 in the first quarter.
Sunnyside Coach Leo Gomez said West Valley played a stingy defense in the opening period, but a lot of what happened was Sunnyside's fault.
"We had easy lay-ups and we just missed them," said Gomez. "We couldn't create anything for ourselves."
Gomez said he told his players going into the game that if they fell behind in the first quarter at West Valley it would be hard to come back.
The Lady Grizzlies showed some heart after the rough beginning Friday night. The Lady Rams took a 32-7 lead into the second half. Sunnyside came back strong in the second half, outscoring West Valley 22-19.
The Lady Grizzlies made a 16-6 run in the third quarter, but didn't quite have enough in the tank to cut into the early deficit.
Cassidy Morrillo was the thorn in the side of the Lady Grizzlies Friday night. Morrillo scored 9 of her game-high 17 points in the fourth quarter. Morrillo led the Lady Rams in the first quarter with eight points. Gomez said he was pleased with the way Sunnyside shut down West Valley's other big guns.
Sunnyside couldn't handle West Valley's pressure defense in the first half, said Gomez. The Lady Grizzlies had 20 turnovers in the first two quarters, but took much better care of the ball in the second half. Sunnyside had only seven turnovers in the last two periods.
Gomez said on Saturday night he was impressed with how Wapato played in his team's 39-37 victory.
"They are a scrappy team, like us," said Gomez. "They are a lot better disciplined team than they have been."
Sunnyside received some solid play from Bobi Haringa Saturday night. Haringa controlled the boards with nine rebounds and she also chipped in 8 points.
"Bobi had a good game," said Gomez.
The Lady Grizzlies actually trailed 22-19 at the half, but came out with a strong second half. Sunnyside outscored Wapato 20-15 to finish out the game.
With about 20 seconds left, Sunnyside went up by four points after Hilary Van de Graaf nailed a pair of free throws. Wapato hit a bucket with four seconds left to account for the final score.
It will be a big week for the Lady Grizzlies (2-3, 5-6) as they look to make a playoff push. Sunnyside travels to Hanford Tuesday night to make-up a game postponed from earlier in the season because of the weather. Sunnyside is then at home for a pair of weekend games against Prosser and Grandview.
. Mike Kantman can be contacted at (509) 837-4500, or email him at mkantman@eaglenewspapers.com
1 2 3 4 T
Sunnyside 0 7 16 6 29
West Valley 20 12 6 13 50
Scoring: Sunnyside-Bobi Haringa 8, Erica Mendez 6, Hilary Van de Graaf 5, Lanna Pangle 4, Andrea Phillips 3, Monique Montelongo 2. Daniela Rivera 1.
West Valley-Cassidy Morrillo 17.
Rebounds: Bobi Haringa 8, Hilary Van de Graaf 7.
Assists: Andrea Phillips 3.
1 2 3 4 T
Wapato 11 11 7 8 37
Sunnyside 12 7 8 12 39
Scoring: Sunnyside-Hilary Van de Graaf 9, Bobi Haringa 8, Andrea Phillips 8, Erica Mendez 5, Daniela Rivera 4, Victoria Sarmiento 3, Monique Montelongo 2.
Wapato-Stephanie Smiscon 10.
Rebounds: Bobi Haringa 9, Hilary Van de Graaf 6.
Assists: Andrea Phillips 2.