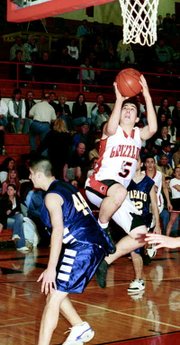 Saturday's 57-56 loss to the visiting Wapato Wolfpack may very well come back to haunt the Sunnyside High School boys basketball team.
That's because it's now become clear, following this past weekend's losses to both Wapato and West Valley, that Sunnyside is playing for the sixth and final Mid-Valley League berth into the District tournament.
With the two losses last weekend the Grizzlies fell to 1-4 in conference play, leaving the Sunnyside boys sitting in seventh place in the league standings. Wapato is holding down the No. 6 spot with a 2-3 record.
"The game against Wapato, especially on our floor, was one we needed to win," said Sunnyside Coach Steve Urrutia, explaining that his Grizzlies are now going to have to steal a win from one of the league's upper echelon teams to get back on track to finish sixth or higher in conference play.
Sunnyside will get its first shot at knocking off one of those squads when the Grizzlies travel to Hanford this Tuesday to take on the Falcons, presently in fifth place with a 2-2 record. This coming weekend, Sunnyside hosts Prosser (0-4) on Friday in what can probably be described as a must-win game for the Grizzlies. Sunnyside will then entertain Grandview (3-2) on Saturday, attempting to avenge an earlier 73-58 loss on the Greyhounds' floor.
The Grizzly cage team opened play this past weekend at league leading West Valley (6-0, 11-0). As expected, the Rams ran roughshod over Sunnyside, claiming an easy 72-43 victory. West Valley's big gun, 6'6" Andrew Strait, poured in a game high 27 points against the Grizzlies. Also in double figures for the Rams were E.J. Schoen and Mark Swift with 13 points apiece.
West Valley opened a 30-16 first half lead on the Grizzlies, expanding its advantage to 17 points midway through the third quarter. Sunnyside made a brief run at the Rams by connecting on three consecutive buckets to cut West Valley's lead to 13. But the momentum switched back to the Rams after senior Jessie Ramirez got whistled for a charging foul on a drive to the hoop, which if the basket had counted would have trimmed West Valley's lead to 11.
In the losing cause against the Rams on Friday, junior Cody Heckert was the lone Grizzly to score in double figures. Heckert tossed in 11 points. Teammate Noe Zamarron added a 9-point effort, and Sunnyside's Kyle Van de Graaf and Pete Marquez chipped in 6 points apiece.
Saturday against Wapato, Sunnyside fought back from a 30-23 halftime deficit to make a game of it. Ramirez led the comeback attempt, throwing in 19 of his game high 21 points after intermission.
Ramirez, who was held scoreless by West Valley the previous night, went to the foul line with 4.7 seconds remaining in the Wapato contest and snapped a 55-all tie by hitting the back end of a one-and-one bonus free throw situation. The Wolfpack was able to work the ball upcourt in the waning seconds, though, winning the game when junior Marshall Juarez threw in a shot from just inside the 3-point arc.
Juarez, who finished with a team high 20 points for the Wolves, transferred in to Wapato this year when his father, Eli Juarez, was hired away as the Moses Lake coach to take over the Wapato boys hoop program.
Urrutia credits his club's second half come-from-behind rally with his team's ability to turn up the defensive pressure against Wapato.
"Another one of the keys was Pete Marquez," said Urrutia. "Pete kept the Juarez kid in check for most of the second half."
Offensively for Sunnyside Saturday night, the Grizzlies sank 18-of-49 shots from the field, which included a 5-for-15 effort from beyond the 3-point arc. Wapato was 18-for-46 from the field, including a 4-for-11 effort from behind the 3-point line. The Wolves outboarded Sunnyside, 39 to 34. Thomas had a team high 11 rebounds for Sunnyside, and Marquez grabbed eight loose balls off the glass.
In addition to the game high 21 points Ramirez had, Thomas chipped in 13 points and Heckert added 7. Zamarron scored 5 points against Wapato, and Marquez and Reid Schilperoort each nailed 4 points.
Wapato got the 20 points pushed in by Juarez, as well as a pair of 9-point scoring performances by Luis Lopez and Brandon Brown.
. Bob Story,can be contacted at
(509) 837-4500, or e-mail himat bstory@eaglenewspapers.com