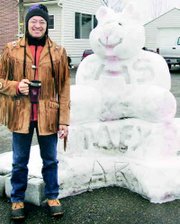 A life-size snow sculpture located on South First Street attracted a lot of attention Sunday night as passers-by honked and shouted encouragement to would-be snow artist Jon Esqueda.
Esqueda, who is in Sunnyside visiting his parents, Juan and Maria Esqueda, spent Sunday night transforming a pile of driveway snow into a thing of beauty.
He said he chose to create a teddy bear rather than a traditional snowman for his mother, because she has a small collection of the stuffed toy bears displayed in her living room. Esqueda chose one of those to be his model for his frozen art.
The shouts from local young people who admired Esqueda's efforts from the warmth of their cars inspired him to dedicate his work to the Sunnyside High School Grizzly, the school's mascot.
A graduate of Sunnyside High School, Esqueda added the letters "SHS" to the chest of the sculpture, which he said took about four hours to complete.
By late Monday afternoon, the red food coloring Esqueda used to accentuate the bear had begun to fade, but the giant friendly-looking bear still attracted a lot of glances on the busy Sunnyside street outside his parents' home.
"One young lady got out for a closer look and to take a photograph of the bear," he said.
A self-proclaimed sun worshiper, Esqueda said the recent cold Yakima Valley weather has him longing for warmer climates. But the opportunity to play in the snow was a nice change of pace.
The sometime artist and traveler said he often creates pieces of artwork which he leaves behind with appreciative friends. His usual art media includes oil and charcoal, which will last longer than his impromptu snow bear.
In the meantime his mother can admire her bear from her front window.
"It makes me feel good to have people enjoy my art," Esqueda said. "I'm glad so many seem to appreciate it."
Julia Hart can be contacted at
(509) 837-4500, or you can e-mail her at jhart@eaglenewspapers.com