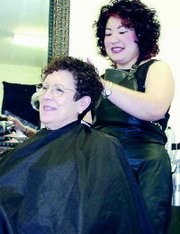 Sunnyside resident Raquel Lopez has known for years that one day she would have her own beauty salon, however it was just this month that she was able to accomplish her goal.
Lopez, a former Miss Sunnyside princess and Miss Cinco de Mayo, opened Raquel's Salon Jan. 2. The salon is located across the street from the Denny Blaine building at the corner of Ninth Street and Custer Avenue.
Although Lopez just recently opened her salon, it doesn't mean she is new to the field. In fact, Lopez has been working in salons for the past four and half years.
"I had already built up my clientele quite a bit and I felt it was time," Lopez said of deciding to strike out on her own.
For Lopez, the opportunity to gain her own location came after weeks and weeks of driving past the small building about a block and half off of Yakima Valley Highway. She said she had been driving past the building for the longest time, until one day she noticed there was a For Rent sign out front. That was all she needed.
Lopez said she quickly sized up the building, noticed the ample parking, good location and immediately called the landlord.
When Lopez finally got the chance to take a look at the inside of the building, she knew it was the place for her. She said the building had been remodeled when she saw it, and the only modification that had to be made for the new salon was plumbing for the sinks. Lopez said other than that all she had to do was furnish it.
The salon currently has two styling stations with a separate area that contains the sinks. Raquel's Salon offers a variety of styling services including haircuts and styles, coloring, perms, highlighting and waxing.
For Lopez, owning her own salon is something she has had on her mind for years. She commented that when running for Miss Cinco de Mayo in 1997 she incorporated her professional goal into her speech.
When Lopez graduated from Sunnyside High School she noted that she also graduated from beauty school. She explained that she started attending beauty school classes while she was still in high school and one of the requirements to graduate from beauty school was a high school diploma.
Lopez said she enjoys working as a stylist because she sees how happy a new haircut or perm can make a person.
"Their confidence is brought up and they feel happier," Lopez said.
Lopez said her new salon is open for both walk-ins and appointments and said she already is thinking about looking for someone to fill the second styling station on the weekends.
Lopez is married to Josue and has two sons, Isaiah and Elijah.
. Elena Olmstead can be contacted at (509) 837-4500, or e-mail her at eolmstead@eaglenewspapers.com